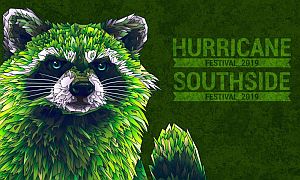 Waiting for the music summer of 2019 is heralded by the announcement of four headliners for the Hurricane and Southside Festival: FOO FIGHTERS, MUMFORD & SONS, DIE TOTEN HOSEN, THE CURE and many other acts bring the organizers FKP Scorpio some of the biggest and most influential artists from the international music scene to Scheeßel and Neuhausen ob Eck. The twin festivals, which take place from 21 to 23 June 2019, offer big names and a genre variety that is second to none.
It seems that the FOO FIGHTERS cannot stop anything and nobody anymore. Even with the title of their worldwide number-one album, 'Concrete and Gold', the six rock icons around Dave Grohl seem to have anticipated the international chart success achieved, but the band's unprecedented success is not solely based on expressive songwriting and perfectly constructed albums. Their only German headliner show at the Hamburg Trabrennbahn (trotting track) was a highlight of the music year 2018, now visitors of Hurricane and Southside have the chance to be witness of the fury of the FOO FIGHTERS in 2019.
And in very good company: MUMFORD & SONS, despite of their international success, are never tired of constantly developing their music. That would be a risk if the four Britons would not always succeed again in consistently thinking ahead themselves and their music - always new and obviously in the right direction. The metamorphosis of their folk-rock makes on the recently announced album, 'Delta', and the combination of acoustic sounds with electronic effects does not stop, as the already published release 'Guiding Light' impressively proves. What remains is the hymnal quality of their music, which also and especially on the big stage unfolds its stirring effect.
The live presence of DIE TOTEN HOSEN is also a separate chapter in music history: created in 1982 from the punk movement, the Düsseldorf has managed to remain true to their values and still give more people a voice. No matter if living room concert or stadium show: Punks and policemen are at a HOSEN concert, because the creation of brilliant autodidacts has long been part of the canon of pop culture - not to mention their political commitment to freedom and peace. The HOSEN do not have much time to pause, after all, they have been on tour almost continuously since their founding. But no matter if it's Düsseldorf or Buenos Aires, DIE TOTEN HOSEN have long been at home all over the world.
Even THE CURE mastermind Robert Smith feels after forty years of success still wanderlust. He also spent parts of his jubilee year in the studio - and in London's Hyde Park, where he celebrated his forty-year band existence with friendly music stars and 65,000 fans. With 13 studio albums and more than 27 million records sold, his distinctive voice has shaped several generations, and it remains to be seen which twisty paths The Cure will take somewhere between Pop, Wave and Gothic. One thing is for sure: The appearance at Hurricane and Southside will be intense and unforgettable.
Beside the headliners the billing contains strong names of different genres: ANNENMAYKANTEREIT and BOSSE deliver intelligent German texts, which BILDERBUCH combine with their unmistakable eccentricity. Harder riffs come from PAPA ROACH and ENTER SHIKARI, while MUFF POTTER, ME FIRST & THE GIMME GIMMES, SCHMUTZKI and MONTREAL heat up Punk fans. Also there are FRANK TURNER & THE SLEEPING SOULS, THE WOMBATS and OK KID with captivating hooks and rousing melodies. For rousing beats 257ERS, TRETTMANN, THE STREETS and BAUSA take care, as well UFO361, DIE ORSONS, FÜNF STERNE DELUXE, YUNG HURN and TEESY let Hip-Hop hearts beat faster.
More bands will be announced soon. Second-tier Hurricane tickets are only availablefrom October 12th. Thereafter, the third price level with 179 € plus garbage deposit. All information and tickets on hurricane.de and southside.de.
Current line-up:

Foo Fighters | Mumford & Sons | Die Toten Hosen | The Cure | AnnenMayKantereit | Bilderbuch | Papa Roach | Bosse | Frank Turner & The Sleeping Souls | Enter Shikari | The Wombats | 257ers | Trettmann | The Streets | Bausa | Ufo361 | Die Orsons | Muff Potter | OK Kid | Fünf Sterne Deluxe | Yung Hurn | Me First & The Gimme Gimmes | Teesy | Schmutzki | Montreal
Hurricane tickets are only available until October 12th for 169 € plus garbage deposit via hurricane.de and eventim.de or by phone under +49 (0) 180 6 - 853 653 (0,20 € / call from a landline, mobile max 0, 60 € / call). From Saturday, the 13th of October, the third price level will start with 179 € plus garbage deposit. The one-time arrival and departure with the trains of the metronome is again included in the ticket - conditions of carriage on hurricane.de. Visitors arriving in a mobile home, caravan or similar vehicle need a WoMo badge to access the especially reserved caravan parking lot. These are only available online via the festival page and the telephone ticket service for 50 € per vehicle.
Southside tickets are available for € 189 plus garbage deposit via southside.de and eventim.de or by phone at +49 (0) 180 6 - 853 653 (€ 0.20 / call from a landline, mobile max 0.60 € / call). The one-time arrival and departure to the festival is included in all local trains in Baden-Württemberg and parts of Bavaria in the ticket. Visitors arriving in a mobile home, caravan or similar vehicle need a WoMo badge to access the especially reserved caravan parking lot. All WoMo badges are already sold out.
Source: Newsletter