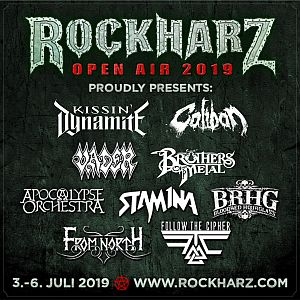 Spring is knocking on the door and the days until ROCKHARZ Open Air 2019 are melting constantly. Time to finalise the billing with a journey through the genres to present you the last nine bands for ROCKHARZ Open Air 2019. From soft to hard, from scene veterans to newcomers. Here we go:
KISSIN' DYNAMITE, CALIBAN, VADER, BROTHERS OF METAL, APOCALYPSE ORCHESTRA, STAMI1NA, BLOODRED HOURGLASS, FROM NORTH, FOLLOW THE CIPHER
Here is the complete billing:
Amon Amarth, Anvil, Apocalypse Orchestra, Bloodred Hourglass, Brothers Of Metal, Burning Witches, Caliban, Children Of Bodom, Combichrist, Coppelius, Cradle Of Filth, Dimmu Borgir, Dragonforce, Elvenking, Elvellon, Epica, Feuerschwanz, Follow The Cipher, Freedom Call, From North, Grand Magus, Grave, Hämatom, Hell Boulevard, Hardline, Hypocrisy, Kärbholz, J.B.O., Kissin' Dynamite, Korpiklaani, Lacrimas Profundere, Legion Of The Damned, Lordi, Milking The Goatmachine, Mono Inc., Mr. Irish Bastard, Nailed To Obscurity, Nervosa, Omnium Gatherum, Overkill, Russkaja, Saltatio Mortis, Soilwork, Stam1na, The Night Flight Orchestra, The O'reillys & The Paddyhats, The Unguided, U.D.O., Vader, Van Canto, Visions Of Atlantis, Warkings, Wintersun, Witt
ROCKHARZ Open Air will take place at Flugplatz Ballenstedt from July 3rd to July 6th, 2019.
Tickets are available here: https://shop.rockharz-festival.com/
Source: Newsletter