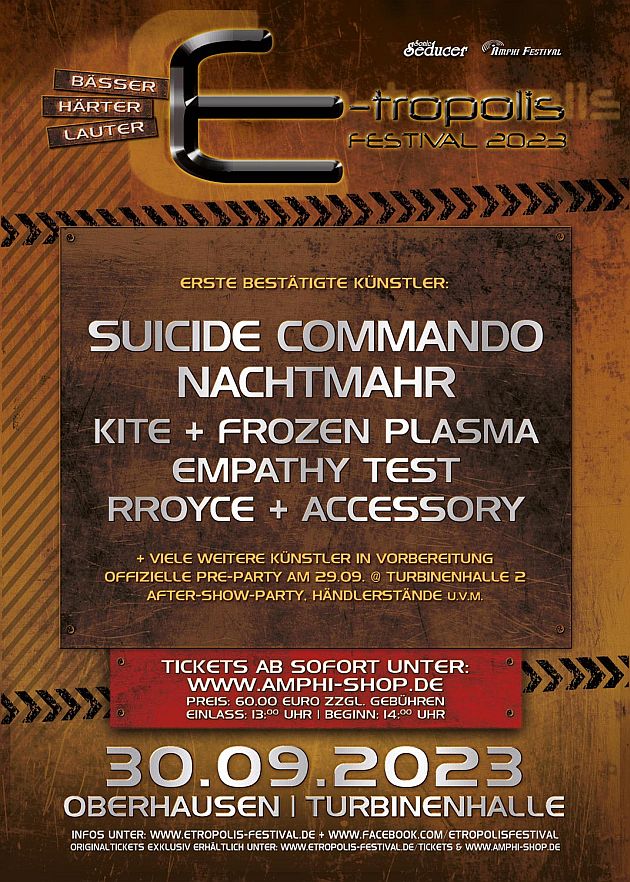 Thank you all for another great E-tropolis Festival 2022 at the Turbinenhalle Oberhausen. Especially in these still strange times, every meeting is a gift and you prove once again: celebrating live, loud and in colour is still the best staying in the rhythm, body to body, the sweat running like oil - true work, true reward! Promoters always appreciate your feedback, so they encourage you to take part in the annual visitor poll. You can also send your band wishes for the future there. The poll is now available at: www.etropolis-festival.de/umfrage2022.php
What a bummer that the most beautiful moments always seem to pass by far too quickly. But be sure, the E-tropolis Festival will return! On 30 September 2023 they complete the "dirty" dozen and get together at the usual place again for the twelfth edition - including the pre-party on Friday, 29 September 2023! Giving you a first taste of what you may look forward to next year, we gladly like to announce the following first bands:
SUICIDE COMMANDO + NACHTMAHR + KITE + FROZEN PLASMA + EMPATHY TEST + RROYCE + ACCESSORY + many more!
The presale for the E-tropolis Festival 2023 has already begun. The new tickets are available now online at www.amphi-shop.de! Also 5+1 group tickets are available at the Amphi Shop again. Furthermore, E-tropolis tickets are available now at www.eventim.de and at all known CTS/EVENTIM box offices. Admission to the pre-party on Friday is free with the festival ticket. Up-to-date festival info is available as always at www.etropolis-festival.de, www.facebook.com/etropolisfestival and www.instagram.com/etropolisfest.
E-TROPOLIS FESTIVAL 2023
30 September 2023 - Turbinenhalle - Oberhausen
Doors open: 1:00 p.m. | Start: 2:00 p.m.
Tickets: www.amphi-shop.de / www.eventim.de
E-TROPOLIS FESTIVAL PRE-PARTY 2023
29 September 2023 - Turbinenhalle 2 - Oberhausen
Doors open & start: 10:00 p.m.
Tickets: free admission with valid festival ticket
Box office (without festival ticket): TBA
Source: Press Release