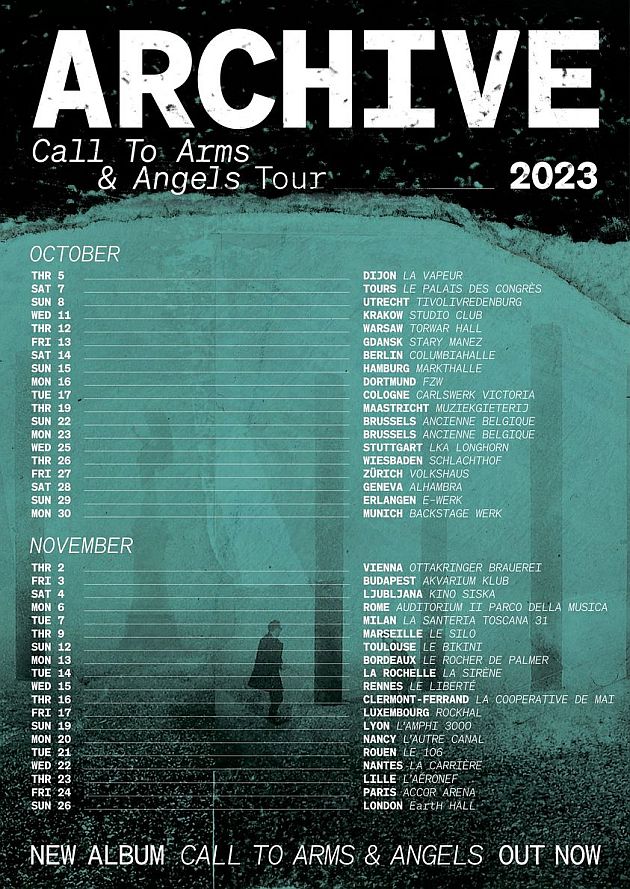 Due to keyboarder Darius' cancer and an operation that was successful but needs healing, ARCHIVE postpone their tour planned for this autumn until next year. Darius thanked his fans for their sympathy in a video: "I'm totally overwhelmed by how many people sent their love and support for me, it's amazing and you can't believe how much it means to have that support, thank you all so much. We're going come back so strong for this tour, stay positive with me and let's smash it next year!"
ARCHIVE develop an independent and complex artistic concept for each of their albums. This includes the artwork as well as the associated videos, the light show on stage as well as the films that accompany the creative process. Instead of having an opening band perform, a 40-minute opening film with a self-produced soundtrack is sometimes shown. But the London band collective around Darius Keeler and Danny Griffiths is not just about pure art. The records and the visuals convey the content on different levels and extend the music in the best sense. Of course, this also applies to the current album 'Call To Arms & Angels'. The first four tracks already released prove the musical and visual diversity of ARCHIVE.
There's the black and white flickering shadow play to the calmly flowing 'Shouting Within'. There are the deserted, gritty architecture, landscape and cloud images in the lyric video for the epic banger 'Daytime Coma', an electronic masterpiece that rises and falls over a quarter of an hour and ends again in dystopian noise and the silence that follows. There's the surreal late-night drive to 'We Are The Same', a track that makes you realize the social divide we're trapped in because we only ever see the things we hate in others and never in ourselves. A core piece in the album's narrative, which is supposed to deal with the extraordinary times (not least the pandemic) and the eroding freedoms in our society.
No light fare, then, that ARCHIVE present to us here and yet again a lavish performance full of fantasy and elegance. Musically, Keeler and Griffiths go back a bit in their own history and combine heavy Trip-Hop with repetitive Electronica, classic acoustic piano, driving drums and psychedelic Post Rock. Anyone who knows ARCHIVE's performances knows that the Brits will come up with something very special for their live shows when they come on tour in autumn.
ARCHIVE - "Call to Arms & Angels" Tour 2023
Oct 14, 2023 Berlin - Columbiahalle // rescheduled from Oct 15, 2022
Oct 15, 2023 Hamburg - Markthalle // rescheduled from Oct 17, 2022
Oct 16, 2023 Dortmund - FZW // rescheduled from Oct 18, 2022
Oct 17, 2023 Cologne - Carlswerk Victoria // rescheduled from Oct 19, 2022 (E-Werk)
Oct 25, 2023 Stuttgart - LKA Longhorn // rescheduled from Oct 26, 2022
Oct 26, 2023 Wiesbaden - Schlachthof // rescheduled from Oct 27, 2022
Oct 29, 2023 Erlangen - E-Werk // rescheduled from Nov 2, 2022
Oct 30, 2023 Munich - Backstage Werk // rescheduled from Oct 31, 2022 (Muffathalle)
Tickets for the concerts are available from Wednesday, March 16, 10 a.m. for EUR 32.00 plus fees exclusively at
Eventim
. From Friday, March 18, from 10 a.m. at all known CTS presale offices and on the hotline +49 (0) 1806 - 570070 (0.20 €/call from a landline, mobile max. 0.60 €/call), on fkpscorpio. com and
eventim.de
.