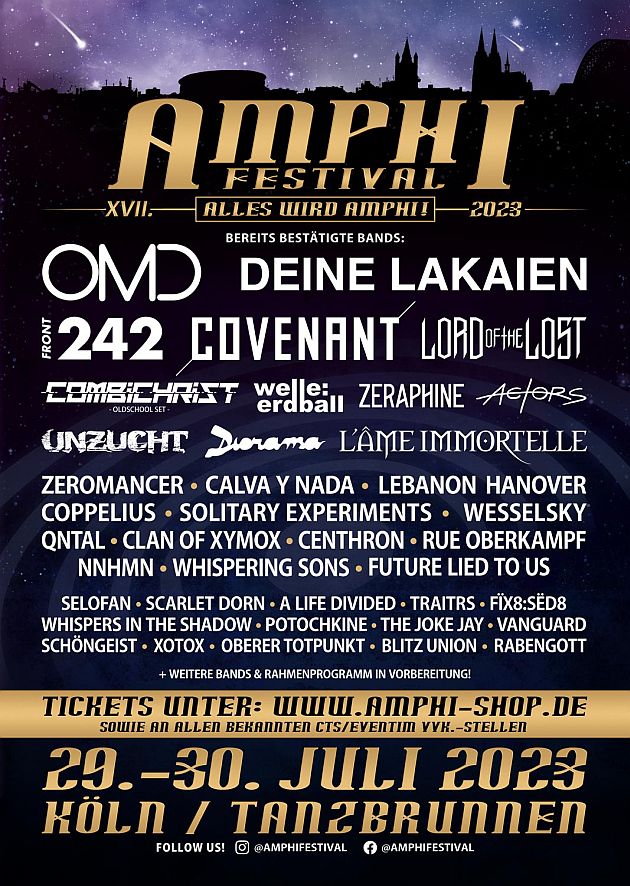 When ORCHESTRAL MANOEUVRES IN THE DARK a.k.a. OMD took the Amphi Festival by storm in 2018, everybody was united in the hope that Andy McCluskey and Paul Humphreys would return to Cologne in the not-too-distant future and maybe pay us an even bigger visit. Dear ones, the sensation is perfect! OMD, creators of timeless classics like 'Maid of Orleans', 'Enola Gay', 'Electricity', 'Souvenir' and many more, are headlining the Amphi Festival 2023! Needless to say, it is an absolute honour for the festival to present you these legendary musicians again in 2023. Also joining the fold: COVENANT with their elegant Electro Pop, the ingenious fusion of the Medieval and machines, QNTAL, as well as the lyrical Darkwave project OBERER TOTPUNKT.
Thus confirmed to this point far are: OMD * DEINE LAKAIEN * FRONT 242 * COVENANT * LORD OF THE LOST * COMBICHRIST (Oldschool Set) * WELLE: ERDBALL * ZERAPHINE * ACTORS * UNZUCHT * DIORAMA * L'ÂME IMMORTELLE * ZEROMANCER * CALVA Y NADA * LEBANON HANOVER * COPPELIUS * SOLITARY EXPERIMENTS * WESSELSKY * QNTAL * CLAN OF XYMOX * CENTHRON * RUE OBERKAMPF * NNHMN * WHISPERING SONS * FUTURE LIED TO US * SELOFAN * SCARLET DORN * A LIFE DIVIDED * TRAITRS * FÏX8:SËD8 * WHISPERS IN THE SHADOW * POTOCHKINE * THE JOKE JAY * VANGUARD * SCHÖNGEIST * XOTOX * OBERER TOTPUNKT * BLITZ UNION * RABENGOTT + ADDITIONAL BANDS + SUPPORTING PROGRAMME!
Especially for Christmas, the Amphi Festival experience is always a great gift idea! Get your original tickets now exclusively at www.amphi-shop.de or head over to www.eventim.de as well as all known CTS/EVENTIM ticket agencies for festival tickets! For more festival info please go over to: www.amphi-festival.de!
Source: Newsletter