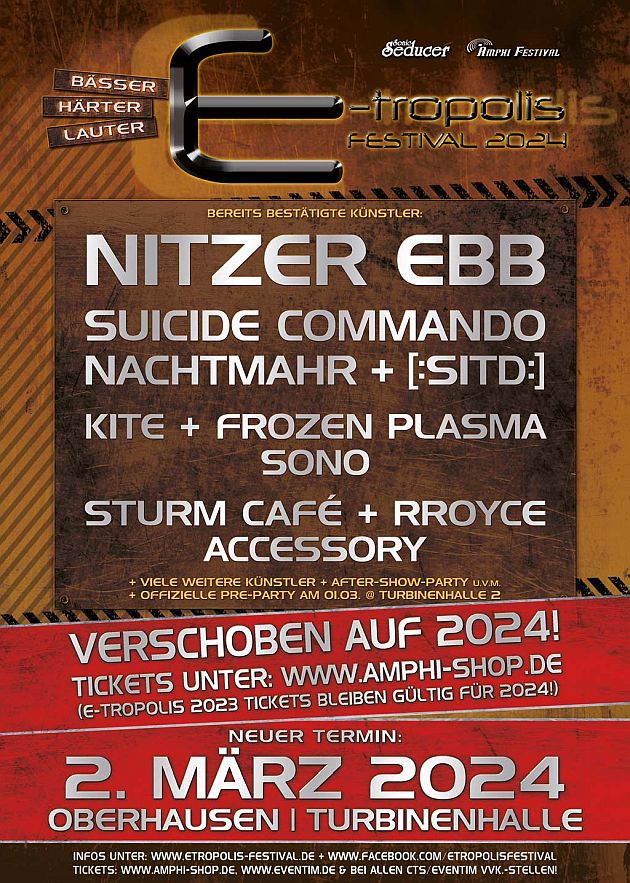 Even better than looking forward to the next E-tropolis Festival with new band announcements is to stand live in front of the stage and be electrified by the atmosphere and the power of the music at full steam. But not only the confirmed line-up, also the anticipation gets a little extension today!
In short: promoters postpone and bring the E-tropolis Festival, planned for September 2023, back to the usual place in the spring with a new date on 2nd March 2024! Many top bands and eligible headliners were not available in September. At the same time, there was a growing desire in your ranks to carry out the E-tropolis Festival in spring again. Both factors combined convinced us in the end to take this step.
With the exception of EMPATHY TEST, who will be represented by SONO, all previously confirmed bands follow into March! So, while the festival is taking another lap of honour in the oven to bring you another impressive spectacle next year, a couple of excellent new bands have already confirmed their participation. [:SITD:] and STURM CAFÉ might have already been noticed by attentive readers of the Sonic Seducer magazine's December/January issue. Pure power! But above all, the legendary NITZER EBB will join the band as headliners!
E-tropolis will return in full effect and we will let it rip on 2nd March 2024 at the Turbinenhalle in the usual powerful manner. All tickets purchased for 2023 will of course remain valid for 2024. The best way to buy current tickets is in the Amphi Shop at www.amphi-festival.de or alternatively at CTS/EVENTIM.
Source: Newsletter