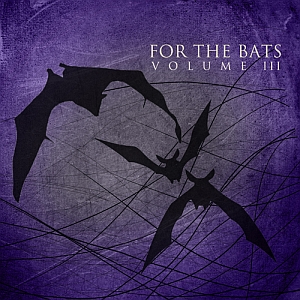 International Goth community united once more for Bat Conservation: The Eden House (UK), Bloody Dead And Sexy (Germany), Gitane Demone (USA) and Red Sun Revival (UK) just a few to lend their names to third and final 'For The Bats' fundraiser.
Halloween is almost upon us, and musicians from all corners of the globe's Gothic, Post-Punk, Deathrock and Darkwave communities have once again rallied together to support Bat rescue, rehabilitation and conservation. Leading names like The Eden House, The Danse Society, Red Sun Revival and Bloody Dead And Sexy (feat. Gitane Demone) spearhead a cast of twenty-five bands and recording artists on 'For The Bats Volume III'; the final installment of the successful fundraising compilation series, with all proceeds paid directly to the Bat Conservation Trust (www.bats.org.uk).
Since the movement's inception, bats have been an enduring symbol of the gothic and Deathrock music scenes. They adorn landmark début record sleeves from Bauhaus and Christian Death, while London's Batcave nightclub in Soho became a thriving hub of the early eighties subculture. Rob Leydon, front man for popular UK gothic rock outfit Red Sun Revival, and a member of both The Eden House and Soulscape, observes:
"Since 1979, when Peter Murphy of Bauhaus sang "The bats have left the bell-tower" on arguably the first recognizable Goth hit, 'Bela Lugosi's Dead', bats have remained the flying mammal of choice for countless Goth lyricists throughout the three and a half decades that followed. These fantastic winged creatures are surely emblematic of the alternative scene and its eerie black-clad devotees."
But they are also more than just a symbol, says "For The Bats" curator Candy Durant.
"They are beautiful animals, often misunderstood to be vermin or pests when in reality, they are very important to the balance of the Earth's delicate ecology. They spread seeds for reforestation and help to control insect populations that would otherwise overrun crops in their billions."
www.forthebats.bandcamp.com
/
www.forthebats.tumblr.com
/
www.facebook.com/forthebats
/
www.twitter.com/forthebats
Support for environmental causes and animal welfare is widespread throughout the Goth community, with many adherents also embracing Pagan philosophies in their outlook on the living world. Several of the compilation's featured artists were immediately on board out of their love for animals. Mel Draper, founding member of Californian-based Soulscape remarks:
"I've yet to meet a goth who doesn't have a fondness for bats and cats, and these days most of the Goths I know are either vegan or vegetarian, which I think is a fairly good indicator that we're a scene with a real affection for animals in general."
Alongside established names from the US, UK and Europe, 'For The Bats' also brings together artists from some of the farthest reaches of the Earth. Bands like Alaskan duo Cliff and Ivy, Australia's Sounds Like Winter, and Disjecta Membra from New Zealand all hold a very specific enthusiasm for bats; particularly those species unique to their respective regions.
"There are seven known species of bats in Alaska",
says Ivy Silence of Cliff and Ivy.
"What are they doing here? Mostly feasting on giant mosquitos. People study how they hibernate in extreme cold to learn more about how mammals survive it."
For some, the connection with bats also has cultural and spiritual dimensions.
"Bats are New Zealand's only native land mammals, known as Pekapeka",
says Michel Rowland of Disjecta Membra.
"My family have a strong ancestral tradition with Tā Moko, customary Māori tattoo. According to legend, Pekapeka are guides who aided humanity to navigate the underworld, Rarohenga, thence to retrieve the art of Tā Moko from a supernatural people called Tūrehu. There are markings found in Moko signifying bats for this reason."
For remote, lesser-known or newly established bands, involvement with the popular compilation series alongside some of the scene's bigger names has also had the added benefit of greater exposure to an international audience, as Sounds Like Winter front man Ant Bannister notes.
"Since we appeared on the second Bats comp the sudden exposure to other bands and new fans has supercharged the progress of our relatively new band. Must be positive Bat karma!"
Just released (20 October) in time for Halloween, the album is available exclusively from
http://forthebats.bandcamp.com
for just $9 US. The download comes with a 26-page pdf booklet containing bat artwork and band photos, along with information on the charity and each of the twenty-five songs and featured artists.
Source: Press Release