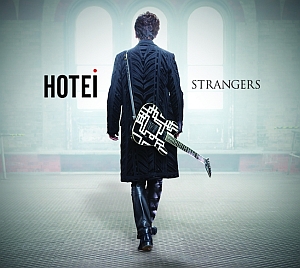 Already released in his homeland, HOTEI now internationally releases his debut album "Strangers" featuring collaborations with the legendary Iggy Pop, Richard Z. Kruspe from European rock gods Emigrate/ Rammstein, Matt Tuck from British rock band Bullet For My Valentine, Noko from electronic music pioneers Apollo 440 and acclaimed Texas singer Shea Seger.
Hotei comments,
"When I was a teenager I was going to the record shops to buy everything I could by The Beatles, The Stones, Led Zeppelin… I soon realised that almost all of it was British. With idols like David Bowie and T-Rex, I've always felt a strong connection to the UK and now that I am living in London, 'Strangers' allows me to take a step out of this new and relatively anonymous space to introduce myself. A stranger to many, remembering the days when I was young and just starting out, playing gigs to a room of only 20 people, I want to connect with people individually and let them understand me through my music."
New single "Move It", featuring Richard Z. Kruspe from Emigrate/Rammstein

Hotei unveiled his latest video, for new single "Move It", which premiered the website of UK rock magazine Metal Hammer. You can view it
HERE
. Echoing the upbeat industrial vibe of the song and shot in Berlin, the video is dynamic and starkly atmospheric with intense performances from both Hotei and Richard. Hotei comments on the video saying,
"I wanted to make it simple, because Richard has a very strong character, and I think we have different characters. First, we wanted to try to do a story, but now it's more like a focus on two characters on the same screen."
Richard explained his inspiration for the lyrics, saying
"I listened to it and the first image I had was this Bond character in my mind. I was seeing a guy going through streets and pushing everything away. I thought, 'Oh, that's interesting, let's try that'. And we pretty much recorded the vocals in one or two days."
'Move It' is available on the "Strangers album" and is released today as two-track single, featuring a "Hounds" remix of the song, done by Olly Burden, known for collaborating with The Prodigy on their most recent album.
Source: Press Release