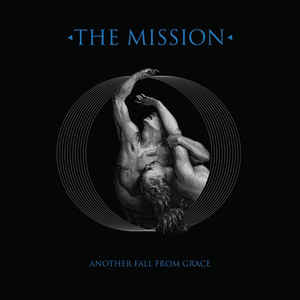 "This album is the lost link between The Sisters Of Mercy 'First And Last And Always' and The Mission's 'God's Own Medicine"
- Wayne Hussey
Another Fall From Grace was produced by Wayne Hussey and Tim Palmer and features guest backing vocals from Gary Numan, Martin Gore (Depeche Mode), Ville Valo(HIM), Julianne Regan (All About Eve) & Evi Vine.
"For me, this new Mission album is the long lost missing link between the Sisters Of Mercy's First & Last & Always and The Mission's God's Own Medicine, both albums of course that I was heavily involved in making. I set out this time with the intention of making an album that sounds like 1985. The fact that I feel this has largely been achieved is down to my renewed love for the jingle jangle shimmer of the electric 12 string guitar which featured heavily on those two previously mentioned albums and now the new Mission album. This is a dark album although I didn't set out with that intention, it's just the way things unfolded. I know I did go a little crazy and even a little paranoid during the recording of this album, certainly my mental, physical, emotional, and spiritual well being all suffered during the course of it. And I think that has informed both the music and the lyrics. So much of this was done in isolation - from the world, from my family, from my friends, and even from my band mates. I can't say it's an album I enjoyed making but it is an album Ineeded to make. It is with huge relief that I can now say it is finished and maybe it's like an acute pain that you have that once it's gone you can't remember how it felt. I hope so as I would like one day to feel the fondness for this record that it maybe deserves." -
Wayne Hussey Aug 2016
'Another Fall From Grace' will be available on CD, DL and 180 gram vinyl plus ltd edition DELUXE double CD and DVD. The deluxe version contains full album on CD, an instrumental version of the album with bonus remix track 'Met-Amor-Phosis' and a 93 minute DVD featuring never before seen footage from 1987 of The Mission performing at Elland Road, Leeds, supporting U2, Aston Villa Leisure Centre as The Metal Gurus and The Royal Court in Liverpool for the Hillsborough benefit gig, both from 1989, producer Tim Palmer's home footage of the recording of 'Carved in Sand' / 'Butterfly on a Wheel' video, and the promo video for new single 'Met-Amor-Phosis'.
On September 2nd The Mission release the gloriously melodramatic Met-Amor-Phosis, the first single from their forthcoming new album.
Co-Produced by Tim Palmer and Wayne Hussey, Met-Amor-Phosis features backing vocals by HIM front man Ville Valo and marks a return for The Mission to their classic anthemic swagger and bombast. The Met-Amor-Phosis digital only single includes a haunting acoustic version by Wayne Hussey and a high energy club version called, 'The Black Star Remix' by Evansson.
Met-Amor-Phosis emerged following a coastal drive from LA to San Francisco, explains Wayne - "Bowie had just died and whilst the first verse is mostly autobiographical having also recently read Kafka's novel of the same title the second verse is certainly flavoured by Bowie's passing''.
Feast your eyes now on the sumptuous 'Met-Amor-Phosis' video:
https://youtu.be/f3LVWnHhzNA
To pre-order Another Fall From Grace :-
http://www.pledgemusic.com/projects/the-mission
Follow!
https://www.facebook.com/themissionuk
THE MISSION Live On Tour 2016
UK AND IRELAND TOUR
SAT 1-Oct-16 IRE DUBLIN ACADEMY
SUN 2-Oct-16 UK BELFAST LIMELIGHT
MON 3-Oct-16 UK GLASGOW O2 ABC
WED 5-Oct-16 UK MANCHESTER O2 RITZ
THU 6-Oct-16 UK NOTTINGHAM ROCK CITY
FRI 7-Oct-16 UK BRISTOL O2 ACADEMY
SAT 8-Oct-16 UK LONDON O2 SHEPHERD'S BUSH EMPIRE
EUROPEAN TOUR
TUE 11-Oct-16 PORTUGAL PORTO HARD CLUB
WED 12-Oct-16 PORTUGAL LISBON PARADISE GARAGE
FRI 14-Oct-16 SPAIN MADRID BUT
SAT 15-Oct-16 SPAIN VALENCIA REPUBLICA
SUN 16-Oct-16 SPAIN BARCELONA BIKINI
TUE 18-Oct-16 ITALY MILAN BLOOM CLUB
WED 19-Oct-16 SWITZ SWITZERLAND LAUSANNE LES DOCKS
FRI 21-Oct-16 GERMANY HAMBURG MARKTHALLE
SAT 22-Oct-16 GERMANY BERLIN POSTBAHNHOF
SUN 23-Oct-16 POLAND WARSAW PROGRESJA
MON 24-Oct-16 SLOVAKIA BRATISLAVA MMC
TUE 25-Oct-16 AUSTRIA VIENNA SZENE WIEN
THU 27-Oct-16 GERMANY MUNICH BACKSTAGE
FRI 28-Oct-16 BELGIUM WARGEM EXPO
SAT 29-Oct-16 GERMANY COLOGNE ESSIGFABRIK
MON 31-Oct-16 HOLLAND UTRECHT TIVOLIVREDENBURG (Pandora Hall)
TUE 1-Nov-16 FRANCE PARIS BUS PALLADIUM
THU 3-Nov-16 LEEDS O2 ACADEMY
FRI 4-Nov-16 LONDON O2 FORUM
SAT 5-Nov-16 UK WHITBY GOTH WEEKEND
SUN 6-Nov-16 BIRMINGHAM O2 INSTITUTE
AUSTRALIAN TOUR
FRI 11 NOV -16 – THE FACTORY, Sydney NSW
SAT 12 NOV -16 – THE TRIFFID, Brisbane QLD
SUN 13 NOV -16 – MAX WATTS, Melbourne VIC
TUE 15 NOV -16 – THE GOV, Adelaide SA
WED – 16 – NOV – 16 – CAPITOL, Perth WA
Source: Press Release