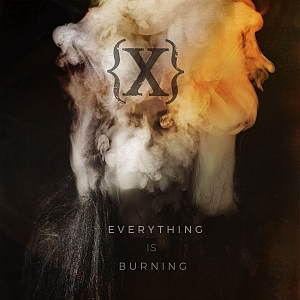 We are happy to announce the release of the new IAMX mini-album "Everything Is Burning (Metanoia Addendum)" ...and that's just the start of our good news. For the first time in IAMX history, the IAMX madness will invade Latin America with two shows in Mexico. 'Everything Is Burning' Tour will begin shortly thereafter in the US and make its way through Europe.
New mini Album "Everything Is Burning (Metanoia Addendum)"
The mini-album comes in a double CD mintpack with 7 new, unheard tracks which Chris initially wrote for Metanoia.
"These tracks didn't make the final cut for the album because I simply had written too many songs, but I felt that releasing them now will complete the Metanoia era and let me start fresh once the next IAMX chapter comes along"
, says Chris. The second CD features a collection of 9 remixes from the Metanoia album by artists such as Gary Numan, Christian Eigner from Depeche Mode and Sam Lockwood from The Jezabels amongst others.
'Everything Is Burning' (Metanoia Addendum) was released September 2 on all online digital and physical retailers.
ORDER DOUBLE CD (comes with instant mp3 download)
ORDER MP3
Read the lyrics here!
Disc 1
01. Everything Is Burning
02. Dead In This House
03. Triggers
04. Scars
05. The Void
06. Eternity
07. Turning Crimson
Disc 2:
01. North Star (Future Funk Squad Remix)
02. Oh Cruel Darkness Embrace Me (Aesthetic Perfection Remix)
03. North Star (Mr. Kitty Remix)
04. Oh Cruel Darkness Embrace Me (SlickNik_CE Remix)
05. Happiness (Gary Numan Remix)
06. Look Outside (Marat Sad remix)
07. Oh Cruel Darkness Embrace Me (Single Mix)
08. North Star (Addendum Mix)
09. Happiness (Single Mix)
Order your copy today!
Musicglue.com/IAMX



"Everything is Burning" Tour 2016
"I'm ultra excited to announce the first ever IAMX shows in Mexico. I've waited so long to get orgasmic with you. It's time. X"
'Everything Is Burning' tour kicks off in Mexico City, MEX on September 9 and makes its way across North America ending in our new found IAMX home city, Los Angeles.
Meet & Greet
packages are once again available in limited amounts for every US concert and are selling out quickly! The intimate experience begins with exclusive access to the soundcheck before the show, complete with something to drink (likely of the dark red color) and one-on-one time with Chris and the band...and of course, guaranteed front row access to the concert.
Get your Meet & Greet experience before they're all gone!
Lille, London and Barcelona dates have already been added to the European leg of the EVERYTHING IS BURNING TOUR 2016. Patience, our European friends! MANY more dates are coming your way shortly!!!
Tickets and information here:
Musicglue.com/IAMX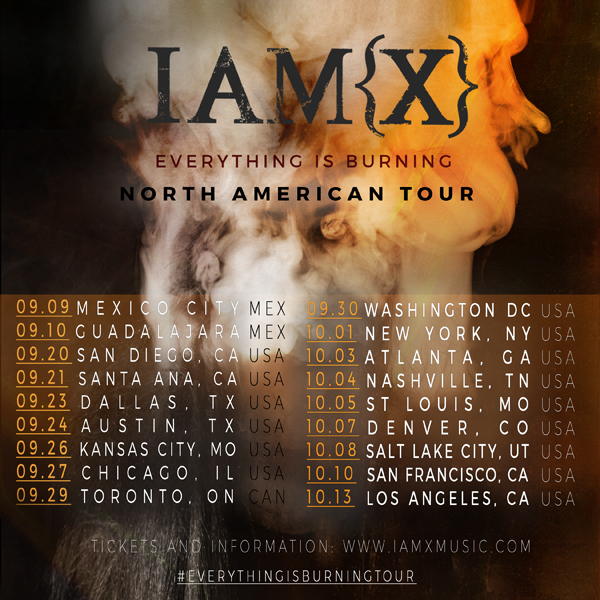 German Dates
09.11.16 (DE) Berlin, Heimathafen,
26.11.16 (DE) Wiesbaden, Schlachthof
27.11.16 (DE) Leipzig, Werk 2
Source: Newsletter