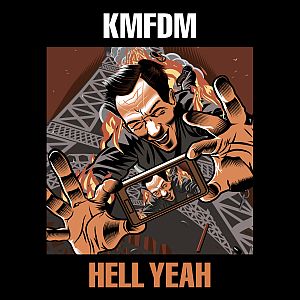 Following the release of the album teaser EP "YEAH !" one week ago, KMFDM finally reveal the title, cover artwork, track list and release date of their highly anticipated new studio album. "HELL YEAH" will be released on August 18th, 2017 on earMUSIC. On "HELL YEAH", the legendary pioneers of industrial rock once again redefine themselves while, at the same time, staying true to their roots. KMFDM's signature sound, a crossover between techno/dance and heavy metal is combined with sometimes political, sometimes ironic lyrics and an underlying humorous edge.
Tracklist
01. HELL YEAH
02. FREAK FLAG
03. OPPRESSION 1/2
04. TOTAL STATE MACHINE
05. OPPRESSION 2/2
06. MURDER MY HEART
07. RIP THE SYSTEM v. 2.0
08. SHOCK
09. FAKE NEWS
10. ℞ 4 THE DAMNED
11. BURNING BRAIN
12. ONLY LOVERS
13. GLAM GLITZ GUTS & GORE
With its cover artwork having been created by Aidan Hughes aka BRUTE!, "HELL YEAH" will be available on 1CD Digipak, 2LP Gatefold and Digital.
The album is available to preorder now:
1CD Digipak:
http://amzn.to/2u5BGku
2LP Gatefold:
http://amzn.to/2sXYAfc
MP3:
http://amzn.to/2u5QiQZ
KMFDM will perform at BRUTAL ASSAULT Festival, CZ, and at M'era Luna, GER, play 6 shows in the UK and then embark on a month-long tour of the United States playing in all major cities as well as headlining Cold Waves Festival in Chicago.
EUROPEAN TOUR 2017
10.8.2017 Brutal Assault Festival (CZ)
11.8.2017 Berlin – Nuke Club (GER)
12.8.2017 M'Era Luna Festival (GER)
05.09.2017 Newcastle – Think Thank (UK)
06.09.2017 Glasgow – St. Lukes (UK)
07.09.2017 Manchester – Ruby Lounge (UK)
08.09.2017 Birmingham – O2 Institute (UK)
09.09.2017 London – O2 Academy Islington (UK)
10.09.2017 Bristol – Fleece (UK)
US TOUR 2017
01.10.2017 Chicago, IL – Metro (Cold Waves VI Festival)
02.10.2017 St. Louis, MO – Delmar Hall
03.10.2017 Indianapolis, IN – The Vogue
04.10.2017 Cleveland, OH – Agora Ballroom
05.10.2017 Falls Church (Washington, DC), VA – The State Theatre
06.10.2017 Philadelphia, PA – Underground Arts
07.10.2017 New York, NY – Irving Plaza
08.10.2017 Allston (Boston), MA – Brighton Music Hall
09.10.2017 Baltimore, MD
11.10.2017 Atlanta, GA – The Masquerade – Heaven
12.10.2017 New Orleans, LA – House Of Blues
13.10.2017 Austin, TX – Mohawk
14.10.2017 Dallas, TX – Gas Monkey Live!
15.10.2017 Houston, TX – White Oak Music Hall
17.10.2017 Tucson, AZ – The Rialto Theatre
18.10.2017 Tempe (Phoenix), AZ – Marquee Theatre
19.10.2017 Las Vegas, NV – Fremont Country Club
20.10.2017 San Diego, CA – House of Blues
21.10.2017 Los Angeles, CA – tbd
22.10.2017 San Francisco, CA – The Regency Ballroom
24.10.2017 Salt Lake City, UT – Metro Music Hall
25.10.2017 Denver, CO – Summit Music Hall
26.10.2017 Omaha, NE – The Waiting Room
27.10.2017 St. Paul, MN – Amsterdam Bar and Hall
28.10.2017 Milwaukee, WI – The Rave II
More on
KMFDM
Source: Press Release