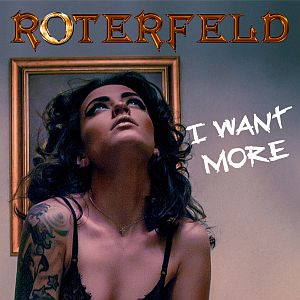 Roterfeld want more - and present their new single "I Want More" live on Germany's biggest World Cup stage. For the stage event supporting the World Cup semi-final on July 11, Berlin gets rocking reinforcement from the Alps. In addition to their new single, the Austrian rockers will perform further songs from their repertoire. But how did this surprising stage comeback come about? "To be honest, I actually don't even like to be in the spotlight that much. But having been invited to present our songs against this backdrop, even I can't say no", frontman Aaron Roterfeld laughs.
The power ballad "I Want More" is the third single release from the current album "Hamlet at Sunset", with which the Austrians have reentered the scene after a break of seven years. Music magazine SLAM has called "I Want More" an "emotional mid-tempo masterpiece". With the singer's incredible vocal strength, anthemic chorus and sensitive lyrics the compact 3.40 minutes-long single edit flatters itself right into listeners' ears as the perfect summer nights soundtrack.
"'I Want More' is a song for everyone, who like me just won't give up believing in true love", Aaron Roterfeld says about the song. But the title could easily sum up the motto of his life as well. Rock musician, adventurer, CEO - just like his songs, bandleader Aaron Roterfeld's life story is a class of its own. A more than lucky coincidence has provided Roterfeld the opportunity to impress the world-famous Berman Brothers (Cher, Coldplay, Hanson) with his demos, who promptly produced a few songs for the newcomer. Other top producers jumped on the bandwagon, Finland's hitmaker Hiili Hiilesmaa (HIM, Lordi, Apocalyptica) and 80s art-rock legend Frank Bornemann (Eloy, Guano Apes, Helloween) produced further tracks.
In 2011, Roterfeld's debut album Blood Diamond Romance skyrocketed to number 2 of the German rock charts (DAC) and onto the covers of numerous music magazines. The highest entry ever achieved by an Austrian in the German DAC charts was followed by a nomination for Austria's AMADEUS, the title of "Best Newcomer" and an extended live tour that brought him onto some of the largest festival stages in Germany and Austria - from Nova Rock to M'era Luna.
Now the success story continues with their new album "Hamlet at Sunset". More multifaceted and playful than ever before, Roterfeld have conquered the music scene once more, playing themselves off the cuff into their very own, genre-crossing league.
Link: http://www.roterfeld.com/en/roterfeld-goes-berlin/
The single edit of "I Want More" will be digitally released as an Mp3 single for download and streaming in all online stores on July 13, 2018.
Source: Press Release