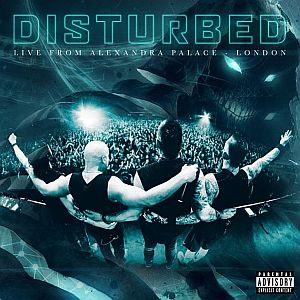 DISTURBED release 'No More' video directed by Matt Mahurin & announce "Live From Alexandra Palace, London" special 5-song EP recorded this past May at famed UK venue. Second leg of EVOLUTION North America Tour to kick off July 21 in Minnesota for the multi-platinum band touring in support of new album EVOLUTION.
As they gear up for the second leg of their North American headlining tour, multi-platinum Rock band DISTURBED have released an electrifying video for new single 'No More', directed by Matt Mahurin (U2, Metallica):
Mahurin also directed the video for DISTURBED's GRAMMY® nominated rendition of SIMON & GARFUNKEL's 'The Sound of Silence', a clip that has amassed over 535 million YouTube views to date. He also helmed the companion clip for the band's recent No. 1 hit, 'A Reason To Fight', off new album 'Evolution' (Reprise Records).
A concert version of 'No More' can be heard on 'Live From Alexandra Palace, London', which is just released. This special 5-song EP was recorded this past May at the famed UK venue. Captured during their sold-out May 11th show at "Ally Pally" and produced by the band, this special digital-only release features a blistering collection of No. 1 Rock radio hits, tracks from new album 'Evolution', and other fan favorites, including:
A Reason To Fight
Inside The Fire
No More
Ten Thousand Fists
The Game
After kicking off the year with a North American tour that saw them playing to more than 200,000 frenzied fans, the two-time Grammy nominated quartet (vocalist David Draiman, guitarist Dan Donegan, drummer Mike Wengren and bassist John Moyer) will begin the second leg of their North American tour on July 21st at the Mankato Civic Center in Mankato, MN. Select shows on the tour will feature special guests POP EVIL or IN THIS MOMENT.
DISTURBED is touring in support of new album 'Evolution', which hit No. 1 on Billboard's Top Alternative Albums and Top Rock Albums charts, as well as No. 4 on the Billboard 200. The band, who are currently wrapping up an international tour, continue their campaign to raise mental health awareness and recently teamed with iHeartRadio for a radio special about the stigma of addiction, depression and PTSD. The show, which featured Draiman and Donegan, along with spokespeople from mental health organizations Camp Hope, 22 Kill and NAMI, can be heard HERE: http://bit.ly/disturbed_reasontofight
The band has also invited fans to join the conversation and show others they're not alone in the fight via the "You Are Not Alone" initiative: https://disturbed.lnk.to/youarenotalone. They've also launched a "Fighter of the Month" campaign, honoring those who have shown strength, character and fight, as nominated by their peers. More info at http://www.disturbed1.com/fighterofthemonth.
About DISTURBED: Simply put, DISTURBED are one of the most successful Rock bands in modern history. The multiplatinum-selling quartet accomplished the rare feat of achieving five consecutive number one debuts on the Billboard Top 200. That accolade historically elevated them to rarified air alongside Metallica, the only other hard rock group to do so in the history of the chart. 'Immortalized' (2015) received a platinum certification and spawned the triple-platinum crossover smash 'The Sound of Silence', which garnered a nomination at the 2017 GRAMMY® Awards in the category of "Best Rock Performance". Since their formation in 1996, the band has sold 16 million albums globally and scored twelve No. 1 singles at Active Rock Radio. Their quadruple-platinum 2000 debut, 'The Sickness', formally announced their arrival as Hard Rock leaders, with that status solidified by subsequent GRAMMY® Award nominations as well as gold-, platinum- and double platinum-certified records, as well as countless sold-out shows around the globe. Named "Best Rock Artist" during the 2017 iHeartRadioMusic Awards, DISTURBED continue to boldly forge ahead with the release of their aptly titled seventh offering, 'Evolution'.
Don't miss your chance to see Disturbed live: https://www.disturbed1.com/tour
Source: Press Release