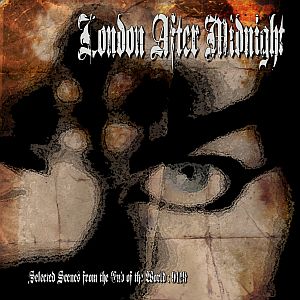 LONDON AFTER MIDNIGHT announces the re-release of their 1991 debut album, 'Selected Scenes from the End of the World,' completely remixed from the original multitrack master tapes, including unreleased bonus material and a never-before-heard recording from the original 1991 sessions! The new mix, titled 'Selected Scenes from the End of the World: 9119' (referring to the year of original release and year of re-release), will be available Friday, December 13, 2019 - the original album was released on Friday, December 13, 1991.
'Selected Scenes…9119' will be available on digital, CD, and 12" heavy-weight double vinyl. The album will feature the long out of print original cover art from the first German CD release in 1995, and will include numerous previously unseen photos, along with personal notes and commentary from Sean Brennan. 'Selected Scenes…' quickly became a classic underground album, with unique and hauntingly beautiful songs like 'Sacrifice', 'Spider And The Fly', 'This Paradise', and many more, and it earned the band a fanatic following that still grows year after year. In 2019 the band, again, headlined the main stage at the prestigious Wave Gotik Treffen in Germany, performing to capacity crowd of 10,000 people.
'Selected Scenes from the End of the World: 9119' is being re-released worldwide by US based Darkride Records. Sean Brennan explains "I always wanted to remix the album because the first mix was so flawed- muddy sounding, buried in audio effects, missing audio elements, there were numerous problems that I'm now able to correct. In 1991 I was limited by an insufficient budget, problems during the recording sessions, and time constraints. So the original mix never showcased the songs as I knew was possible. This new mix is clear and clean, missing audio elements have been restored, and the album was painstakingly reconstructed and mixed as it should have originally sounded in 1991."
The new mix is powerful and pristine, yet retains the feel of a young, up and coming underground dark rock band of the era. 'Selected Scenes…9119' was mixed by Sean Brennan and English composer, producer, and mix engineer David Lawrie, at Ishikawa Media. Lawrie explains "There were some fundamental issues with the original recordings. Whilst it is impressive that such a youthful band could record an album of this standard, 'Selected Scenes...' was an excellent candidate for restoration. I am honoured to have been a part of this project. Mixing a previously released album from scratch is a rare experience for mix engineers!"
And this is just the beginning. After 'Selected Scenes…9119' there are THREE more albums waiting to be released, including 'Oddities, Too' - an album of rarities and unreleased material, a complete remix of LAM's sophomore album, 'Psycho Magnet', and an all new album of never-before-heard songs. As LAM said in 1991 for the promotion of the album, "The End of the World is Coming!" There is also a lot more new music coming from LONDON AFTER MIDNIGHT!
Source: Press Release