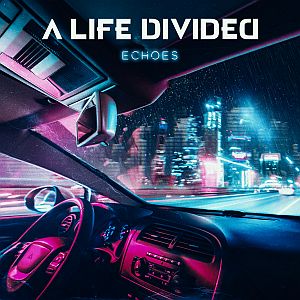 Modern Rock in the look of the 80s! What is the sound of your favourite record when you put it into a time machine and send it back to the past? Based on this question and the answer hereto, A LIFE DIVIDED created their new album 'Echoes', which will be released on January 31, 2020 via AFM Records/ Soulfood Music. Just two days later, the tour starts in Munich.
"We all got in touch with music for the first time in the 80s. In that time, I bought my first Adidas Allround, let my hair grow and played songs of my Metal heroes on my guitar", remembers singer Jürgen Plangger. Songwriter and producer Eric Damköhler then was a Synth Wave fan. "That's how the idea for 'Echoes' was born, to mix our A LIFE DIVIDED style with the typical synth sound of the 80s. The result is something totally new: 13 songs that combine our Dark Alternative Rock with the zeitgeist of the 80s."
Since Bavarian radio hits like 'Feel', 'Space', or 'Heart on Fire', an award for Best Newcomer of the Rock Antenne radio station, tours with APOCALYPTICA, EISBRECHER, UNHEILIG, and OOMPH! as well as sold out headliner club tours, the Electro Rock sound of the Munich band A LIFE DIVIDED is known far beyond the scene. Band members are singer and songwriter Jürgen Plangger (also EISBRECHER guitarist), guitarist Tony Berger (ex LACRIMAS PROFUNDERE), bassist Tobias Egger, and songwriter Erik Damköhler.
The songs of 'Echoes' deal with finiteness and the echo that remains of us. Band leader Plangger says: "Finiteness is threatening, when we love and live, but it also can be comforting, when we mourn, being hurt or disappointed. But an echo remains - a silent memory of what has been."
A LIFE DIVIDED – "Echoes" tour

Feb 1, Munich, Backstage Werk
Feb 2, Nuremberg, Hirsch
Feb 7, Stuttgart, Club Cann
Feb 8, Pratteln, Z7
Feb 14, Berlin, Musik und Frieden
Feb 15, Leipzig, Hellraiser
Feb 20, Aschaffenburg, Colos-Saal
Feb 21, Bochum, Matrix
Feb 22, Hameln, Sumpfblume
Band: www.a-life-divided.de
Label: www.afm-records.de
Source: Press Release