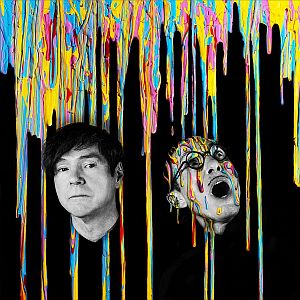 The legendary SPARKS - namely the brothers Ron and Russell Mael - have announced the release of their now 24th studio album: 'A Steady Drip, Drip, Drip' will be released on May 15, 2020 via BMG. In October the duo will embark on a small European tour, on which the SPARKS can also be seen in Germany on October 15th. In an announcement clip, the formation also confirmed the release of the music film 'Annette' (without naming a date) written by the SPARKS with Adam Driver and Marion Cotillard, directed by Leos Carax ('Holy Motors'). Also announced is a currently untitled SPARKS-documentary directed by Edgar Wright ('Baby Driver', 'Spaced').
The premiere of the lyric video 'Self Effacing' can be seen here:
The video announcement for the album can be seen here:
Since they first stormed the charts, heads and radio stations with their mega hit 'This Town Ain't Big Enough For Both Of Us' from their 3rd studio album 'Kimono My House' in 1974, the two ever young Pop pioneers (https://www.forbes.com/sites/davidchiu/2020/12/30/sparks-celebrate-50-years-of-eccentric-and-influential-music-on-new-compilation/) have set themselves a unique monument with their albums and live shows. With 'A Steady Drip, Drip, Drip', the US duo presents the successor to their critically acclaimed 2017 album 'Hippopotamus', with which the SPARKS returned to the top 10 at the time, and not just as one of the best albums of the year, but also celebrated as the creation's highlight of the band - until now. Before the SPARKS and their band (https://thequietus.com/articles/24671-sparks-live-three-songs-no-flash-kentish-town-forum) will embark on an extensive world tour in 2021, the brothers will be seen on a small European tour in October 2020. In Germany, the SPARKS will play a concert on October 15th in the Berlin Metropol.
'A Steady Drip, Drip, Drip' appears in the formats CD, Picture-Disc and as a cassette. The album can be pre-ordered from the following providers: https://sparks.lnk.to/dripEM. The current single 'Self Effacing' is available under the following link: https://sparks.lnk.to/Self-EffacingEM.
October 2020 European Tour Dates

11 Oct - Norway, Oslo, Rockefeller Music Hall
12 Oct - Sweden, Stockholm, Cirkus
14 Oct - Denmark, Copenhagen, The Koncerthuset
15 Oct - Germany, Berlin, Metropol
17 Oct - Netherlands, Amsterdam, Paradiso
18 Oct - Belgium, Brussels, AB Flex
20 Oct - France, Paris, Casino de Paris
21 Oct - UK, London, Roundhouse
23 Oct - UK, Manchester, Albert Hall
24 Oct - UK, Glasgow, The Barrowland Ballroom
26 Oct - UK, Belfast, Limelight Club
27 Oct - IRE, Dublin, Vicar Street
More Info: www.allsparks.com
Source: Press Release