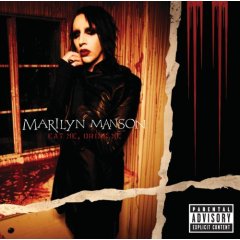 "Eat Me, Drink Me", the newest album for Marilyn Manson, will be out on June 4th through Interscope / Nothing records. On this album Manson returns with 11 tracks influenced partially by "Alice's Adventures In Wonderland". "Eat Me, Drink Me" is Manson's fifth studio album and the follow up to the 2004 release "Lest We Forget - The Best Of". According to Manson the new album is his "darkest record to date".
Tracklist:
If I Was Your Vampire
Putting Holes In Happiness
The Red Carpet Grave
They Said Hell Is Not Hot
Just a Car Crash Away
Heart-Shaped Glasses (When The Heart Guides The Hand) ( Album Mix )
Evidence
Are You The Rabbit?
Mutilation Is The Most Sincere Form Of Flattery
You And Me And The Devil Makes 3
Eat Me, Drink Me
Source:
http://www.side-line.com/