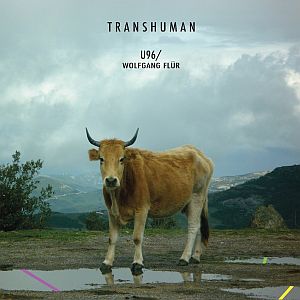 In hardly any other area do German artists play such a central pioneering role worldwide as in the field of electronic music, from Techno, Electro-Pop, Trance and Rave. To be found at the forefront for many years: the formations KRAFTWERK and U96, two absolute pioneers of their genres. While KRAFTWERK was able to write international music history especially in the 1970s with the cult albums 'Autobahn' (1974), 'Radio-Aktivität' (1975), 'Trans Europa Express' (1977) and 'Die Mensch-Maschine' (1978), U96 dictated the global Pop, Rave and Techno scene of the 1990s with hits like 'Das Boot', 'Love Sees No Color', 'Night In Motion' or 'Heaven'. On 'Transhuman', which will be released on September 4, 2020 via UNLTD Recordings, there is now a spectacular collaboration between U96 (Ingo Hauss & Hayo Lewerentz) and Wolfgang Flür, KRAFTWERK drummer from 1972 to 1987, who was thus directly involved on the most important albums of the band from Düsseldorf.
This remarkable cooperation was announced and realized in two joint numbers for the first time on the 2018 U96 work 'Reboot'. With 'Transhuman', U96 and Wolfgang Flür are now expanding their creative exchange to a complete album and creating new, fascinating worlds of sound. The title song 'Transhuman' and an updated version of 'Zukunftsmusik (Radiophonique)' will be released in advance as the first singles, including the usual experimental video clips. How great the interest in this project is not only in Europe but also on the other side of the Atlantic is shown by the fact that the New York record company Radikal Records immediately secured the rights to the album for the USA and Canada. "'Transhuman' is a stylistic mélange of our different histories," is how Wolfgang Flür and the U96 makers Hauss and Lewerentz describe a work that is sensational in many respects and on which, in addition to typical U96 tracks such as 'Clone' or 'Specimen', also by Flür's past inspired pieces like 'Transhuman', 'Planet In Fever' or 'Sexersizer' can be found.
What is particularly striking is the content-related reduction to the essentials, i.e. sparse, associative text fragments with deep, but also playful and mysterious statements that one feels more than cognitively perceives. The content is about the transformation of humans through technology and the massive shaping of our planet through human hands. Hauss: "Pieces like 'Zukunftsmusik' or 'Transhuman' do not tell stories in the actual sense, but rather articulate feelings and associations in a few words, similar to 'Radio-Aktivität', 'Autobahn' or 'Die Mensch-Maschine' at the time. In addition, there are some melodies on 'Transhuman' that were created on the basis of computer algorithms, i.e. fractal music with which we go back even further in history, to Klaus Schulze, Stockhausen, the electronics laboratories of the fifties and sixties and the compositional technique of the so-called "Musique Concrete"."
U96 and Flür got to know each other personally at the beginning of the 2000s, but mutual respect was there long before that. Hayo Lewerentz: "If you were a German artist in the eighties with electronic music, synthesizers and the creative studio possibilities, you couldn't get past KRAFTWERK, of course. We were concerned day and night with how this band creates its crazy sounds." Lewerentz later, as operator of the electro label Major Records, received a few new songs from Flür for publication and remixed his track 'Beat Perfecto', among other things. Following the creative collaboration between Hauss, Lewerentz and Flür on 'Reboot', more than 40 fragments of ideas were exchanged online over the past two years, from which 14 songs for 'Transhuman' were created. Lewerentz: "There are also two other pieces that will be featured on Wolfgang's upcoming album 'Magazine' at the end of the year." And joint U96 / Wolfgang Flür concerts are already being planned. Lewerentz: "We think that we will do one or two shows together next year. In any case, the interest of the organizers is huge." No doubt: this is not only the interest of the organizers!
Check out a first video along to the album - 'Let Yourself Go':
Tracklist

01. Transhuman
02. Hamburg – Düsseldorf
03. Zukunftsmusik (Radiophonique)
04. Specimen
05. Clone
06. To The Limit
07. Zufallswelt
08. Planet In Fever
09. Shifted Reality
10. Kreiselkompass
11. Data Landscape
12. Transhumanist
13. Sexersizer
14. Maschinenraum
Facebook:
https://www.facebook.com/U96reboot/
Source: Press Release