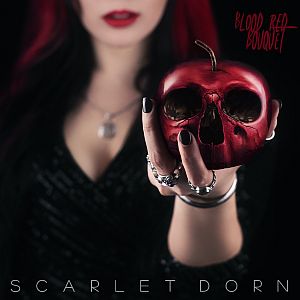 SCARLET DORN will release their pre-single for their new album on November 27th, 2020: The single 'Scorched By A Flame So Dark' comes also with a new video clip. On January 29th, 2021 the new album 'Blood Red Bouquet' will be out!
SCARLET DORN are back with their second album 'Blood Red Bouquet'. Appeared for the first time in 2016 as a feature in a LORD OF THE LOST song, singer Scarlet and her band inevitably appeared again and again on the repertoire of the dark music scene in the following months and years. Not only through the release of the debut album 'Lack Of Light' in 2018, but also through tireless touring, including with WITHIN TEMPTATION, JOACHIM WITT, LETZTE INSTANZ and also LORD OF THE LOST.
As on the debut, the quintet's second work and its 13 new songs moves between Dark Rock and Pop, with influences from classical and electronic music, with 'Blood Red Bouquet' being more driving, harder and even more emotional. One of the highlights of the album is definitely the duet 'Proud & Strong' with scene veteran Sven Friedrich (SOLAR FAKE, ZERAPHINE, DREADFUL SHADOWS) - a nicer fusion of these two warm, moving and unmistakable voices could not have been chosen. 'Blood Red Bouquet' was also produced in the legendary Chameleon Studios in Hamburg and while the new album is finding its way onto the shelves, download and streaming platforms, the band is already writing songs for the next creative output.
But first of all we are going on an emotional roller coaster ride with 'Blood Red Bouquet', the tour dates for 2021 will follow shortly...
Source: Press Release