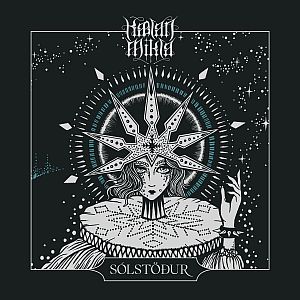 An ode to the darkest night of the year - KÆLAN MIKLA exhibits artistic and musical growth with their new single 'Sólstöður'. This is the first song we hear from them since they released their third and most successful record yet, 'Nótt eftir nótt' in 2018, and it's been worth the wait. The track begins in a sombre register, with a beautiful melodic vocal eventually giving way to a darker side, complete with nightmarish screams, and a droning synth-backed chorus.
The band writes: "Sólstöður is an ode to the darkest night of the year, when witches summon winter spirits in the frozen vastness of Icelandic landscapes. The song represents the strength of unity, KÆLAN MIKLA in its truest form, fuelled by the power of harsh and raw nature." The single is now streaming everywhere including Bandcamp, Spotify, and Apple Music. 'Sólstöður' was recorded in Reykjavík with Barði Jóhannsson and mastered by Frank Arkwright at Abbey Road Studios. The artwork for the single was created by the iconic French illustration team Førtifem and presents KÆLAN MIKLA, the entity that the band has created in their mystical icy world. 'Sólstöður' was released on the 2nd of April along with a video on YouTube.
The breathtakingly beautiful video for 'Sólstöður' is directed by Pola Maria, and features spellbinding images of weird sisters Laufey, Sólveig, and Margrét brandishing swords, chalices, and other arcane symbols amongst the snow and waves of the majestic landscapes of their native Iceland. 'Sólstöður' is the very first glimpse of their fourth album that will be released in the fall.
KÆLAN MIKLA was formed in Reykjavik in 2013, as part of a poetry competition, and have since then evolved from a DIY punk project to a well-established group, a concrete part of the current music scene. They have created a world steeped in Icelandic history and culture, inspired by folklore, gloomy weather, nature and fairy tales that they beautifully present in their native language. KÆLAN MIKLA has released three full length albums that all have their own distinctive charm as they rather follow their instinct instead of a specific genre. They have toured the US and Europe several times, notably with ALCEST, DRAB MAJESTY and as headliners in their own right. The band was hand-picked by Robert Smith of THE CURE as support on several festivals in the UK and in the US. KÆLAN MIKLA is currently recording their fourth album with producer Barði Jóhannsson., The album will be released next fall.
"Sweeping eerie soundscapes, irresistible post-punk hooks and dance beats coupled with angelic voices and blood-curdling shrieks." -KELSEY CHAPSTICK, Revolver
Source: Press Release