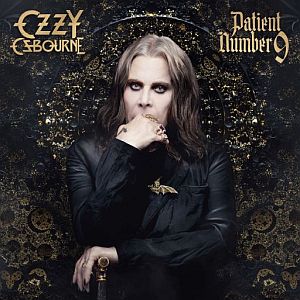 Mark September 9 in your calendars in bold because that is the release date of 'Patient Number 9', the new album from Rock and Roll Hall of Fame-inducted Grammy-winning singer-songwriter OZZY OSBOURNE - the first since his 2020s critically acclaimed, worldwide chart-topping album 'Ordinary Man'. The album's eponymous first single and video will be released worldwide today.
Two and a half years after his last album, OZZY OSBOURNE, The Original Prince Of Darkness, is back with new music: British Rock legend Jeff Beck is featured on his new single 'Patient Number 9' as lead guitarist. The track was produced by Andrew Watt, who was also responsible for Ozzy Osbourne's 2020 album 'Ordinary Man' and who, in addition to OZZY, also counts artists such as Justin Bieber, Miley Cyrus and Pearl Jam among his clients. The title track of the same name from the upcoming album 'Patient Number 9' is now available everywhere.
The video, directed by Grammy winner and multiple Grammy nominee Todd McFarlane, has its world premiere today at 4 p.m. Listen to the first single 'Patient Number 9' here: https://ozzyosbourne.lnk.to/Patient_Number_9
Produced by Andrew Watt (who also wrote 'Ordinary Man'), the new album, which will be released via Epic, is OSBOURNE's 13th solo album. It's heavy, it's gritty, it's historical - it's everything you could want in an OZZY OSBOURNE record and maybe more. Guest stars on the album include Zakk Wyld, Eric Clapton, Mike McCready (PEARL JAM), Chad Smith (RED HOT CHILI PEPPERS), the late Taylor Hawkins (FOO FIGHTERS), Robert Trujillo (METALLICA), Duff McKagan (GUNS N' ROSES), Chris Chaney (JANE'S ADDICTION) and, for the first time ever, on a solo album by OZZY, OZZY's BLACK SABBATH co-founder Tony Iommi. Various album versions of 'Patient Number 9' are now available for pre-order in stores and through OZZY's D2C Shop.
Tracklist

01. Patient Number 9 (feat. Jeff Beck)
02. Immortal (feat. Mike McCready)
03. Parasite (feat. Zakk Wylde)
04. Mr. Darkness (feat. Zakk Wylde)
05. One of Those Days (feat. Eric Clapton)
06. A Thousand Shades (feat. Jeff Beck)
07. No Escape From Now (feat. Tony Iommi)
08. Nothing Feels Right (feat. Zakk Wylde)
09. Evil Shuffle (feat. Zakk Wylde)
10. Degradation Rules (feat. Tony Iommi)
11. Dead and Gone
12. God Only Knows
13. Darkside Blues
Source: Press Release