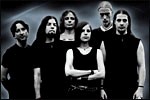 LKA Longhorn, Stuttgart, Germany
27th October 2006
metal.de 10th Anniversary Festival: Equilibrium, Neaera, Disillusion, Criminal, Undertow


In October 1996, metal.de, originally named The Dark Site: metal-online.de, went online as one of the first German Metal magazines on the web. Today, ten years later, it is one of the biggest and mostly frequented contact points for fans of the Metal genre. This anniversary surely gives reason for an appropriate festivity, and so they will bring an interesting billing on stage in the LKA on the 27th of October. But not only the bands will give pleasure to the audience, also the ticket price of 10 Euro is really fair, and the first 300 visitors will get little presents like CDs or shirts. After the evening's last band has left stage, there will be a party until the early morning hours.
Billing


EQUILIBRIUM
NEAERA
DISILLUSION
UNDERTOW
CRIMINAL
Information


Free CDs, shirts and loads of other gifts for the first 300 visitors!
Location: LKA-Longhorn in Stuttgart
Admission: 19:00
Beginning: 19:30
Tickets: Pre-sale is 10 EUR (plus pre-sales fee) / Box office is 12 EUR
Pre-sale only until 20th Oct. via:
-
www.metaltix.de
-
www.nuclearblast.de
-
www.mdd-shop.de
- WOM Stuttgart
- Ratzer Stuttgart
- LKA Longhorn Stuttgart
After that tickets will be available until 24th Oct. via email -
This email address is being protected from spambots. You need JavaScript enabled to view it.
- or at the box office. For further information take a look at
www.metal.de
.
Bands


EQUILIBRIUM

The German band from Munich play - in their own words - Epic-Viking-Metal which is a mélange of different Metal genres like Viking, Black or Melodic Metal. They have been founded in 2001 as a cover band, but soon started writing their own stuff. In November 2003 they got a record deal with Black Attakk Records and about one and a half years later their first studio album "Turis Fratyr" appeared. With Nuclear Blast as a new label they are currently working on a new release.
http://www.equilibrium-metal.de/


NEAERA

Originally founded as a side project of MALZAN's lead guitarist Tobias Buck in 2003, the band from Münster, Germany started as THE NINTH GATE. They played some kind of Power Metal with Hardcore elements. After recording a 7-track-demo at the DOCMA-KLANG studio in Osnabrück, they were offered a deal with Metal Blade. Currently they are touring Austria with MISERY SPEAKS.
http://www.neaera.com/


DISILLUSION

In 1994 five guys from Leipzig decided to start a Thrash Metal band - this was the birth of Disillusion. During their eventful band history they had to deal with several line-up changes and developed their own style somewhere between Death, Black, Progressive and Thrash Metal. Their first album release was "Back to Times of Splendor" (2004), and a new one will appear these days - "Gloria".
http://www.disillusion.de/


UNDERTOW

The year 1993 saw the foundation of the German Metal band UNDERTOW. In their own words they play Metal without any clichés, straight and energetic. Their first CD "Harm OnE" was recorded for the SUB ZERO label and appeared in 1999. After a lot of touring and some line-up changes they released a new studio album this year - "Milgram" (Silverdust Records).
http://www.undertow.de/


CRIMINAL

The Thrash-Metal band CRIMINAL has been founded in Santiago de Chile in the early nineties and made good success in their home country and on the South American continent. After releasing their second album "Deal Soul", they had some trouble with their label and for quite some time it seemed that the band would have no future. But vocalist Anton Reisenegger relocated to the UK, and with some old and new musicians he made a re-start for CRIMINAL. Their latest release is "Sicario" from 2005.
http://www.criminal1.com/