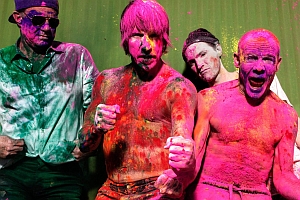 After five years, the RED HOT CHILI PEPPERS are touring again with a new album. Short ago, it was released: 'The Getaway', the eleventh album of the band, showing the guys around Tour Anthony Kiedis and extra-class bassist Flea in best form. No wonder that the album, produced by no one else than Danger Mouse, entered the German album charts right away on position two. Funky bass lines, sidestepping guitar melodies, sometimes whispering, sometimes nearly rapping Kiedis – and with it always those moments when you think: "Now I should jump up and down with 100,000 others".
No sooner said than done! This will soon be possible. After the band played at a rainy Rock am Ring, the CHILI PEPPERS will go on arena tour through five German cities later this year to play new master pieces like 'Dark Necessities' or 'Goodbye Angels' but also their big hits like 'Can't Stop', 'Scar Tissue' or 'Californication'. The band still is very popular and was taken into the "Rock and Roll Hall of Fame" in April 2012 as one of the most successful bands in rock history.
Regular pre-sale will start on Wednesday, 6th July 2016 at 9 CET. All tickets are personalized and can be purchased for 55 to 80 euros plus charges (pre-sale) via
www.rhcp.tickets.de
. Personalized means, that any ticked is bound to the person written on the ticket. This person is owner of the right to visit the show and only this person is allowed to enter the venue. Sales are limited to four tickets per person. This all is installed to avoid a second market where tickets are sold for increased prices. Official pre-sale is exclusively executed by
www.rhcp.tickets.de
. All other sellers are non-authorised. So please be careful where you buy your tickets!
The tour is presented by Rolling Stone. Here are the German dates:

01.11.2016 Munich - Olympiahalle
03.11.2016 Berlin - Mercedes-Benz Arena
14.11.2016 Cologne - Lanxess Arena
17.11.2016 Hanover - TUI Arena
19.11.2016 Frankfurt - Festhalle
More info:
www.redhotchilipeppers.com
/
www.facebook.com/ChiliPeppers