Old Army Fortress Josefov, Jaromer, Czech Republic
10th to 13th August 2016
Brutal Assault Festival 2016 with Aborted, Agnostic Front, Arch Enemy, Behemoth, Dark Funeral, Dark Tranquillity, Devildriver, Die Krupps, Eskimo Callboy, Gojira, Insomnium, Mastodon, Ministry, Moonspell, Parkway Drive, Satyricon, Septicflesh, The Black Dahlia Murder and many more…

The 21st edition of BRUTAL ASSAULT attracts over 100 bands! Brutal Assault Music Festival - one of the most prestigious events in the world of metal - enters its next decade of its existence. This year's 21st edition, which traditionally takes place in a military fortress Jofesov in Jaromer, once again attracts about 100 bands from around the world which represent the best of different metal subgenres in 4 days on 3 stages.
This year's edition offers several well know acts like Polish black metal icon BEHEMOTH, legendary American industrial MINISTRY or British doom metal cult ELECTRIC WIZARD or Japanese post rock sensation MONO. Brutal Assault 2016 Festival will be held between 10th and 13th of August 2016 in the Old Army Fortress Josefov in the Czech Republic (approx. 130 km from Prague). The combination of eclectic line-up as presented by selected worldwide acts and the historical area of the Old Army Fortress is what makes this festival unique. It's an integral part of the festival's image and provides festival-goers with unusual experience. Festival services include meet and greet point, non-stop bars, art gallery and many more attractions!
Both of the main stages are on the main festival square and the festival services are placed in the surrounding space. The festival-goers will discover dozens of refreshment kiosks with selection of worldwide cuisine. The fest is ready for carnivores, vegetarians and vegans and will also offer four big "beer tents" offering thousands of sitting places and five types of draught beer from the world famous Czech Budweiser Budvar brewery!
The fest also has its own "chill out" zone on the place called "Greenfield" just four minutes of walk from the main stages! Greenfield is a place for your pleasure and relaxation when you want to escape from the loudness terror. It is a place for recharging your energy. Among other attractions you can find enormous "Metal Market" in there. The market is home to more than 60 shops and sits just next to the festival "Horror Cinema Grindhouse" with it's all day projection of cheesy horror flicks and other forms of bizarre cinematography. Visit also festival "Natural grandstand", a place for those who want to see the festival rush from above. Located directly opposite the main stages, the hillside "natural grandstand" is a place where you can stay standing or sitting and enjoy the bands from above. This year again with separate sound coverage!
The camping site is located approx. 300m from the festival ground on a grass field. The general camping is free for all, but the camping site also includes "VIP Camp" which offers extra services like camping in the fenced area, toilets, washbasin and depository for use of the VIP camp inhabitants exclusively, a free 3-day pass for the natural stand and shower situated in the main camping site. You can purchase the VIP camp alongside the tickets in festival e-shop (
http://brutalassault.cz/en/eshop
). The capacity of the Fortress is approx. 20,000 persons, so hurry up and get your ticket!!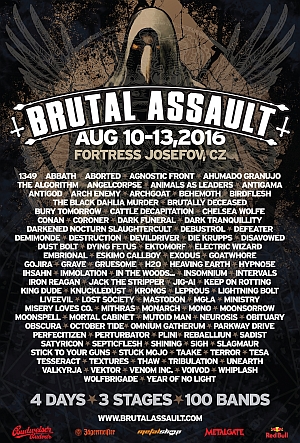 Line-up

Aborted, Agnostic Front, Ahumado Granujo, Angelcorpse, Animals As Leaders, Antigama, Arch Enemy, Archgoat, Behemoth, Birdflesh, Bury Tomorrow, Cattle Decapitation, Conan, Coroner, Dark Funeral, Dark Tranquillity, Defeater, Destruction, Devildriver, Die Krupps, Disavowed, Dying Fetus, Electric Wizard, Eskimo Callboy, Exodus, Eyehategod, Goatwhore, Gojira, Gruesome, Hypno5e, Immolation, Insomnium, Iron Reagan, JIG-AI, Knuckledust, Leprous, Mastodon, Ministry, Misery Loves Co, Mithras, Mono, Moonspell, Mutoid Man, Neurosis, Nile, Obituary, Obscura, Omnium Gatherum, Orbituary, Parkway Drive, Satyricon, Septicflesh, Shining, Slagmaur, Stick to Your Guns, Stuck Mojo, Taake, Terror, Tesseract, Textures, The Algorithm, The Black Dahlia Murder, Unearth, Valkürja, Vektor, Venom, Venom Inc., Voivod, Whiplash, Year Of No Light
More to come!
Tickets

80,00 EUR pre-sale price for 4-day festival pass. This edition of tickets is available until August 08th, 2016 in e-shop (
http://brutalassault.cz/en/eshop/
)
88,00 EUR at the door for the 4-day festival pass - IF THE FESTIVAL IS NOT SOLD OUT.
1.300,- CZK (approx. 50 EUR) 1-day tickets (available only at the festival's box office and IF THE FESTIVAL IS NOT SOLD OUT).
Additional Information

Visit the official website www.brutalassault.com for more information about tickets, ticket booking, bands, camping (incl. VIP Camp), accommodation and other important topics.
Other information channels:
http://www.facebook.com/brutalassault.cz
http://www.youtube.com/brutalassaultfest