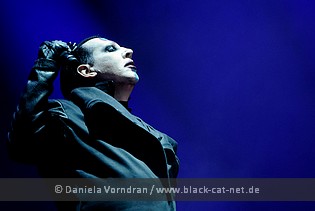 MARILYN MANSON is one of the most dazzling figures in the music world and has not lost any creativity, charisma and shock potential since the beginning of his career in the mid-nineties. In August of last year, when one almost thought it was quiet around him, he released the new track 'Say10' and delivered a video clip where he relished a Bible with pleasure, then decapitated a man looking like Donald Trump. The music was brachial, coal-black, hit-suspicious - and reminded many fans of his early masterpieces 'Antichrist Superstar' (1996) and 'Mechanical Animals' (1998).
Actually, his new album should be named like the song and be finished by 2016, but Manson took the time he needed and kept his fans on the high voltage with creepy Instagram videos. Now, Manson revealed in an interview that the studio work was completed, that the album is called 'Heaven Upside Down' and is "his most complicated so far". He did not yet name the actual release date, but Manson has new tour dates on offer. In November, four German cities will have the chance to visit his bizarre, creepy and often political horror scene.
Dates

16 Nov 2017 Hamburg, Sporthalle
18 Nov 2017 Munich, Zenith
25 Nov 2017 Berlin, Velodrom – UFO
29 Nov 2017 Düsseldorf, Mitsubishi Electric Halle
Pre-sale starts Friday, 19th May. Tickets are available from 44 euros plus charges via
Eventim
,
Ticketmaster
and all known pre-sale offices.
More on
Marilyn Manson