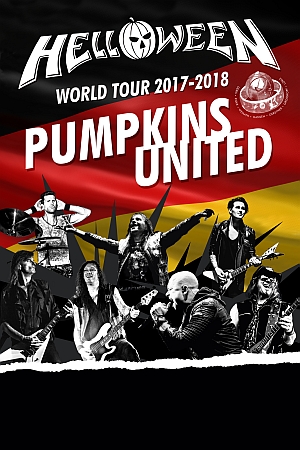 Drop everything. Drum roll. Here comes the sensation for all HELLOWEEN fans: You believed in it for years and continued to ask for it – now is the time: In fall 2017, Michael Kiske and Kai Hansen will once again mount a HELLOWEEN stage together and resurrect the band's legendary original line-up. Yes, it's official: Weijath, Kiske, Hanse, Grosskopf are going to play HELLOWEEN classics live and on a joint tour. Massive news. Awesome. But you might want to sit down again, because that's not all! Under the flag "Pumpkins United" all pumpkin heads will step up – meaning Andi and Michi on vocals, Kai and Weiki and Sascha on guitars, and Markus and Dani in the rhythm section.
The idea: Undisputedly, HELLOWEEN are one of Germany's most respected metal exports and considered the founders of German melodic speed metal. As godfathers of the genre, they have grown to become one of the most influential metal bands on the planet. In an unbelievable career reaching back as far as 1984, HELLOWEEN have performed at innumerable metal festivals around the globe such as Rock in Rio, Loudpark in Tokyo, Wacken in Germany, or the Woodstock in Poland, which the headlines in front of over 500,000 fans. The band has released 15 studio and three live albums to date, selling over eight million records and earning 14 gold and six platinum awards. For 30 years, HELLOWEEN have been delighting their fans with fantastic riffs, great songs, and haunting melodies – three decades of a global career they officially celebrated with the 'Hellbook' in 2015. This is when the idea for the "Pumpkin United" was born: the 'Anniversary Bible' as well as touring with Kai made them realize that this band's story is demanding its next chapter. Or, as Michael Kiske describes it: "Playing an original HELLOWEEN track with
UNISONIC
was quite a flashback already, but rocking with the original line-up and Andi will be something really special. The time has come!"
You can look forward to a secret surprises, three hours of the biggest hits from three decades of HELLOWEEN as the band will obviously insist on performing a full speed trip through the HELLOWEEN repertoire. Whoever doesn't secure tickets for this tour, probably doesn't have all their pumpkins in a row: the original live-up wants to celebrate a global party with you, which is also going to be highly emotional because this special world tour is actually not a reunion and most probably won't happen again. Andi channels our metal hearts when he says: "I'm so much looking forward to playing Michi's and my tunes together with him live on stage. It's going to be absolutely exceptional." - And now: Breathe.
Shows in Germany

Nov 11 – Porsche-Arena, Stuttgart (sold out)
Nov 12 – Zenith, Munich
Nov 24 – RuhrCongress, Bochum
Dec 4 – Tempodrom, Berlin
Additional Concert Info

Tickets: are available from 46.90€ (plus fees)
HERE
and at
Ticketmaster
Info: https://lb-events.de/de/veranstaltungen/helloween-pumpkins-united.html
Events on Facebook: https://www.facebook.com/pg/helloweenofficial/events/
More on
Helloween