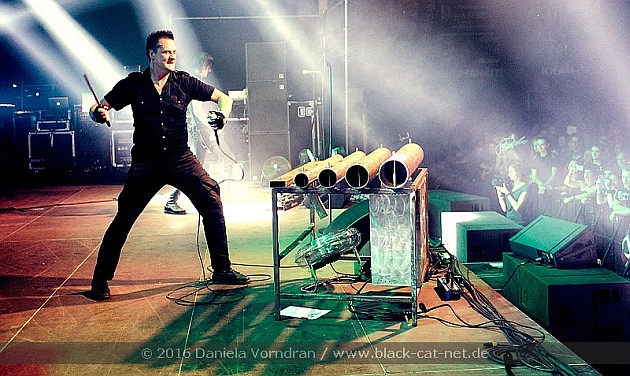 We proudly present the upcoming DIE KRUPPS "V½" tour! The for September 2017 planned DIE KRUPPS "V½" tour, presented by Reflections of Darkness and leading the band through five German locations, had to be postponed to 2018. Now, the dates are finalized. See list below...
When talking about industrial pioneers, one band cannot be missing: DIE KRUPPS. In addition to KRAFTWERK and EINSTÜRZENDE NEUBAUTEN, the band from Düsseldorf has been one of the internationally active and relevant pioneers of the sound since the 1980s, who, like no one else, recorded the tool rhythm and the machine sound in a steelwork. Not for nothing, the founder Jürgen Engler borrowed their name from the Essen heavy industry family Krupp and called the first record 'Stahlwerksinfonie' - also the last album 'StahlwerkRequiem' rejects here.
Bands like FRONT 242, NITZER EBB (with whom they landed the billboard hit 'Machineries Of Joy') and RAMMSTEIN also drew their inspiration from the glaring tracks of the pioneers of Electronic Body Music. In 1991, after a musical change, DIE KRUPPS set new standards not only in Germany regarding electronic music with hard rock riffs with their groundbreaking album 'I', containing the song 'Metal Machine Music', based on Lou Reed's melodic-free feedback album. The heavy guitar sound paired with driving sequencers made DIE KRUPPS the epitome of innovation: this mix makes their music timeless and is still 20 years later the guarantee for full dance floors and energetic live shows.
After a longer break, the band started playing concerts around the world again in 2005 as a result of strong fan demand. Also the whole back catalogue was re-released internationally, and again, in 2013 and 2015 with 'V - Metal Machine Music' complete new albums, in which Engler was mainly responsible for the musical realization. Now the machines are oiled again: DIE KRUPPS are currently working on a new album which is scheduled to be released this year, and of course, the noise makers are also on tour again: Engler comes with his old colleagues Ralf Dörper (synthesizer), Marcel Zürcher (guitar) and other tour musicians to our stages to combine art, work, pay, music, noise, sweat and dance.
New Dates: DIE KRUPPS - "V½" Tour 2018

26.04.2018 Berlin – Kesselhaus
27.04.2018 Wiesbaden – Schlachthof / Kesselhaus - SOLD OUT!
28.04.2018 Weissenhäuser Strand – Plage Noire
29.04.2018 Düsseldorf – zakk
The dates in Hamburg (12.09.2017 - Knust) and Munich (09.09.2017 - Strom) will not take place. Tickets for those two shows can be given back at the tickets offices where they were bought. Pre-sale for the shows starts Monday, 14th August 2017 around 12:00 Berlin time (High noon). Get your tickets
HERE
. Tickets are also available via
Ticketmaster
, hotline +49 (0) 1806 - 853653 and at fkpscorpio.com.
More on
Die Krupps