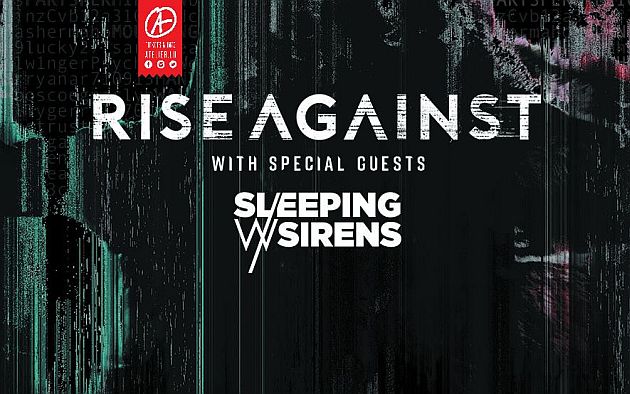 Rockhal, Esch sur Alzette, Luxembourg
10th November 2017
Rise Against, Sleeping with Sirens, Pears

RISE AGAINST will return to Europe this autumn and coming to Luxembourg in November! RISE AGAINST is an American melodic Hardcore band from Chicago, Illinois, formed in 1999. The band's current line-up comprises vocalist/ rhythm guitarist Zach Blair, bassist Joe Principe and drummer Brandon Barnes.
The band spent its first four years signed to the independent record label 'Fat Wreck Chords', on which they released two studio albums, 'The Unraveling' in 2001 and 'Revolutions per Minute' in 2003. That year, the band signed with a major label 'Geffen'. Their albums 'The Sufferer & the Witness' (2006) and 'Appeal to Reason' (2008) were also successful and peaked at number ten an number three on the Billboard 200 chart. Three years later their album 'Endgame' followed afterwards. RISE AGAINST is also known for their advocacy of progressivism, supporting organisations such as 'Amnesty International. The band actively promotes animal rights and most of the members are straight edge, 'PETA' supporters and vegetarians. After the release of 'The Black Market' in 2014, their new album 'Wolves' followed this year in June. The album debuted at number nine on the Billboard 200 album chart, becoming their fifth straight top ten record.
Supporting RISE AGAINST will do SLEEPING WITH SIRENS from Orlando, Florida and PEARS from New Orleans, Louisiana.
Additional Concert Info

Doors: 19:00
Show: 20:00
Tickets:38€ + presale fee
Info & Tickets: http://www.atelier.lu/Upcoming-Shows/Rise-Against
Facebook Event: https://www.facebook.com/events/1853523331636675/
More in
Rise Against
,
Sleeping with Sirens
and
Pears