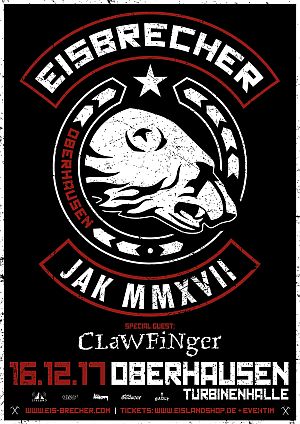 Turbinenhalle, Oberhausen, Germany
16th December 2017
Eisbrecher & Special Guest: Clawfinger

It has long since become a successful tradition in the EISBRECHER year: on 16th December, this year's annual closing show of the Munich-based rockers takes place in the Turbinenhalle Oberhausen. As a special guest, the Swedish rap metal band CLAWFINGER is confirmed - a heartfelt wish of the Bavarians, as singer Alex Wesselsky reveals. EISBRECHER have every reason to celebrate the year-end 2017 - the show in Oberhausen closes the most successful year ever in the band's history. More than 27,500 visitors to a total of 13 shows of the just completed "Sturmfahrt" tour, # 1 for the album 'Sturmfahrt', double gold for the last two albums just one year ago and the premiere of their own festival in the Ulm Ratiopharm Arena lie behind the band.
Hardly any other German-speaking band in the harder rock sector is currently as successful as EISBRECHER. And although founded over 15 years ago, the band is still on the upswing. Unmistakably forged in the home port of the Bavarian capital Munich, EISBRECHER are the flagship of the new hard rock scene. Spectacular live shows, wit and quick wit, as well as a high recognition value are the incomparable trademarks.
As special guest of the show, CLAWFINGER are confirmed. They are something like the profound hit factory of the crossover rock scene and have long been cult status. In the 90s, they not only landed world hits with songs like 'Nigger', 'The Truth' or 'Do What I Say', but also addressed socially critical and directly up-to-date abuses: CLAWFINGER succeeded in inspiring a whole generation to speak and decisively shape the then emerging crossover scene. For many, the Gothenburg-based band is the European answer to RAGE AGAINST THE MACHINE. After a few years of silence around CLAWFIGER, the Scandinavians officially returned in August with their new single, 'Save Our Souls', once again catching the spirit of the day- 'Save Our Souls' is an anti-Trump song and finds both critical and thoughtful approaches to the currently most powerful man in the world.
Additional Concert Info

Doors: 18:15
Start: 19:30
Tickets: are available for 51 euros plus charges (pre-sale) via
https://goo.gl/7WWuvW
or www.eislandshop. Children's tickets (7 to 13 years) are available for 14 euros
Info: http://www.turbinenhalle.de/programm /www.eis-brecher.com
More on
Eisbrecher
and
Clawfinger