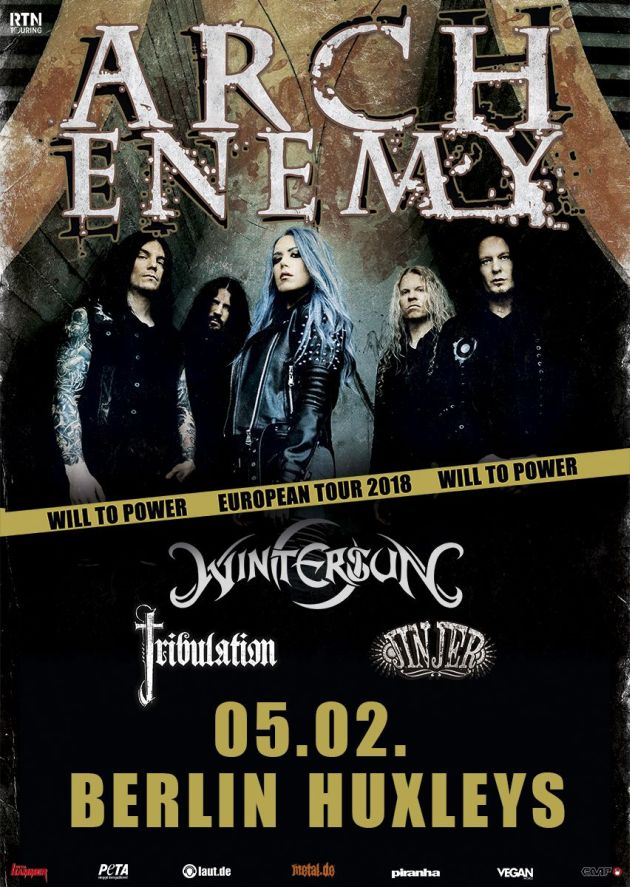 Huxleys Neue Welt, Berlin, Germany
5th February 2018
Arch Enemy, Wintersun, Tribulation, Jinjer

ARCH ENEMY is a Swedish melodic death metal band founded in 1996. In 2014, singer Angela Gossow stepped down from the band and Alissa White-Gluz of the Canadian band THE AGONIST was chosen as her replacement. Vocally and visually she is a stroke of luck for the band.
So far, the band has released ten studio albums. The current album, 'Will to Power', was released in September 2017. Their last two albums reached the Top Ten of the German Charts. The songs of the new album are characterized by a varied mixture of harmony and hardness. One is never bored whilst listening to the album!
A full concert evening with four bands awaits the fans in the Berlin Huxleys. As well as the evening's headliner, support bands WINTERSUN, TRIBULATION and JINJER can be expected to bring something unique and impressive.
Additional Concert Info

Doors: 5:30 pm
Start: 6:10 pm
Tickets: are available for 38.45 euros from
Eventim
and
Ticketmaster
Facebook Event: https://www.facebook.com/events/327318677714074/
Info: https://www.facebook.com/archenemyofficial / https://www.facebook.com/wintersun / https://www.facebook.com/Tribulationofficial / https://www.facebook.com/JinjerOfficial
More on
Arch Enemy
,
Wintersun
,
Tribulation
&
Jinjer