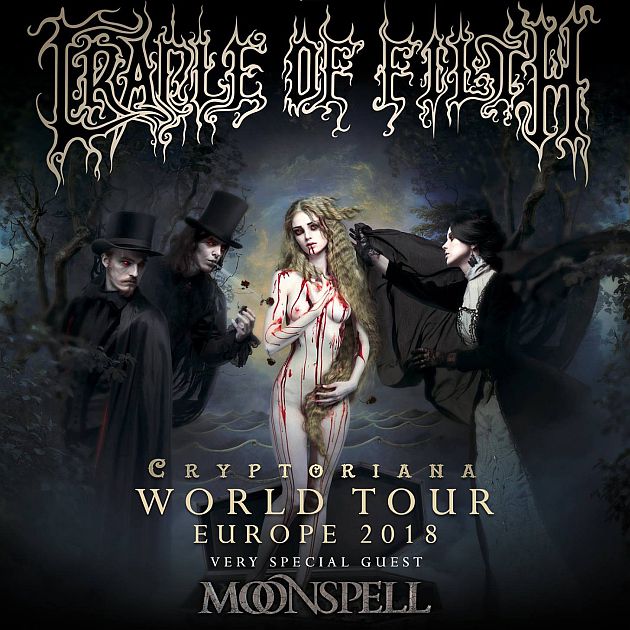 Zeche Bochum, Germany
6th February 2018
Cradle of Filth & Moonspell

"Cryptoriana World Tour" - Vampyric Metal fans aren't gonna just sit at home when a cult band like CRADLE OF FILTH are in town to bring the black, the sinister, and macabre live and loud on stage. The band's latest release titled 'Cryptoriana - The Seductiveness Of Decay' is CRADLE at its finest being "deeply infused with Victorian gothic horror." Front man Dani Filth explains:
"'Cryptoriana' implies the Victorians' infatuation with the supernatural, the grave and the ghoulish. And the subtitle, 'The Seductiveness of Decay', further cements this attraction to death and the glittering lengthy process of self-annihilation".
In celebration of their 12th album of anti-hymns "UK's most visionary and hellish outfit" is coming to haunt 14 German cities. On February 6th it's Bochum's turn.
As a very special guest CRADLE OF FILTH are having dark metal heroes MOONSPELL from Portugal. MOONSPELL's latest opus '1755' is their 12th record and an orchestral metal masterpiece dealing with the destructive earthquake that hit Lisbon. For the first time, vocalist Fernando Ribeiro sings completely in his native tongue Portuguese. He is supported by incredible choirs around epic and oriental instrumentals that have impressed fans and critics alike. Come out and let MOONSPELL live on the Zeche stage sweep you off your feet!
German Tour Dates
27 Jan – Hellraiser, Leipzig
28 Jan – C-Club, Berlin
29 Jan – Grünspan, Hamburg
30 Jan – Schlachthof, Bremen
3 Feb – Hyde Park, Osnabrück
4 Feb – Essigfabrik, Cologne
6 Feb – Zeche, Bochum
7 Feb – Batschkapp,Frankfurt Am Main
8 Feb – Hirsch, Nuremberg
9 Feb – Garage, Saarbrücken
23 Feb – LKA Longhorn, Stuttgart
24 Feb – MS Connexion Complex, Mannheim
27 Feb – Backstage Werk, Munich
2 Mar – Roxy, Flensburg
Additional Concert Info

Doors: 7:00pm
Start: 8:00pm
Tickets: are available for 25.00€ (plus fees) at
Eventim
Info MOONSPELL: https://www.moonspell.rastilho.com / https://www.facebook.com/moonspellband
Info CRADLE OF FILTH: http://www.cradleoffilth.com / https://www.facebook.com/cradleoffilth
Further Info: http://zeche.net/konzert.php?nummer=1
More on
Cradle Of Filth
&
Moonspell