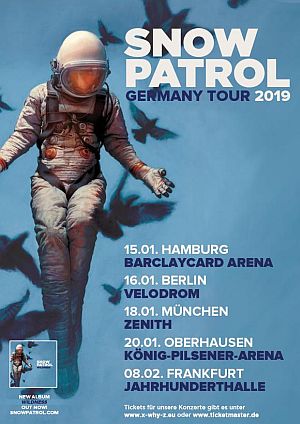 Back with their new album 'Wildness' in January / February 2019 and on tour in Germany! After a break of seven years, SNOW PATROL will return with their 7th album, 'Wildness', and to German stages for five concerts in January and February 2019. "There are different types of wildness", explains vocalist Gary Lightbody, "but there are two areas that are crucial: on the one hand there are the wild states that the modern age has brought with it, general confusion, absurd logic and alienation, and on the other an age-old form of savagery. Living things and beauty, with which we feel a very different connection, which have to do with passion, with love, with the connection between us and nature, as well as the connection between us humans. It is this latter kind of 'wildness' that the album is all about and the loss and trying to restore the bonds, to remember it."
Lightbody goes on to say that it was not enough to just ask a series of questions on this album, but to find answers within it too. It was important to him to find out why he was unhappy, out of place and where the fears were coming from. The long break of the British rockers has turned out to be very important for the song-writing and led the band beyond to a new self-image. Musically, SNOW PATROL sound absolutely self-confident and remain true to the sound that has made them world-famous over the past decade.
Anyone wishing to see for themselves SNOW PATROL's new self-image will have this opportunity in January and February 2019. SNOW PATROL will play in Hamburg, Berlin, Munich, Oberhausen and Frankfurt.
German Tour Dates

15.01.2019 Hamburg - Barclaycard Arena
16.01.2019 Berlin - Velodrom
18.01.2019 Munich - Zenith
20.01.2019 Oberhausen - König-Pilsener-Arena
08.02.2019 Frankfurt - Jahrhunderthalle
Tickets will be availabel from 8th June 2018 10:00 CET exclusively via x-why-z.eu and
ticketmaster.de
.