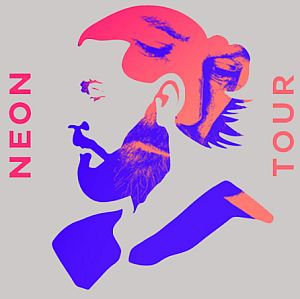 König-Pilsener-Arena, Oberhausen, Germany
26th September 2018
Rea Garvey - "Neon Tour"

With 'Neon', REA GARVEY puts his new album and his next arena tour in a special light. From the 10th of September to the 4th of October, the Irishman living in Germany presents his rousing live show in 18 cities (dates below). The 'Neon' tour is the most extensive one in the amazing career of Rea Garvey.
The "Irishman in Berlin" hits new sounds with his fourth studio album, although he remains true to himself. According to the artist, beats and sounds create an "urban / street like" atmosphere that had not been in focus before. Of course, the fans can look forward to hits from the three previous solo CDs, all Top-5 chart succession, which sold more than a million copies.
More than 250,000 fans saw the last sold-out "Get Loud" open air tour, which was "loudly" celebrated by the audience and the media alike. These euphoria takes REA GARVEY and his brilliant band on the forthcoming tour adventure 2018, which sheds new light on his stylistically diverse and gripping song canon.
Tour Dates

10.09.2018 Cologne - Palladium
11.09.2018 Stuttgart - Porsche Arena
12.09.2018 Mannheim - Rosengarten
14.09.2018 Erfurt - Messehalle
15.09.2018 Rostock - Stadthalle
16.09.2018 Bielefeld - Seidensticker Halle
18.09.2018 Leipzig - Haus Auensee
19.09.2018 Hanover - Swiss Life Hall
21.09.2018 Würzburg - s.Oliver Arena
22.09.2018 Freiburg - Sick-Arena
23.09.2018 Munich - Olympiahalle
25.09.2018 Frankfurt - Festhalle
26.09.2018 Oberhausen - König-Pilsener-Arena
27.09.2018 Berlin - Max-Schmeling-Halle
29.09.2018 Hamburg - Barclaycard Arena
01.10.2018 Ulm - Ratiopharm Arena
02.10.2018 (CH) Zurich - Halle 622
04.10.2018 (AT) Vienna - Gasometer
Additional Concert Info

Doors: 18:30
Starts: 20:00
Tickets: Tickets are available for about 59.25 € (pre-sale plus fees)
HERE
and at
Ticketmaster
Info: https://www.koenig-pilsener-arena.de/arena_events/rea-garvey/?eventdate=115
More
Rea Garvey
and
Reamonn