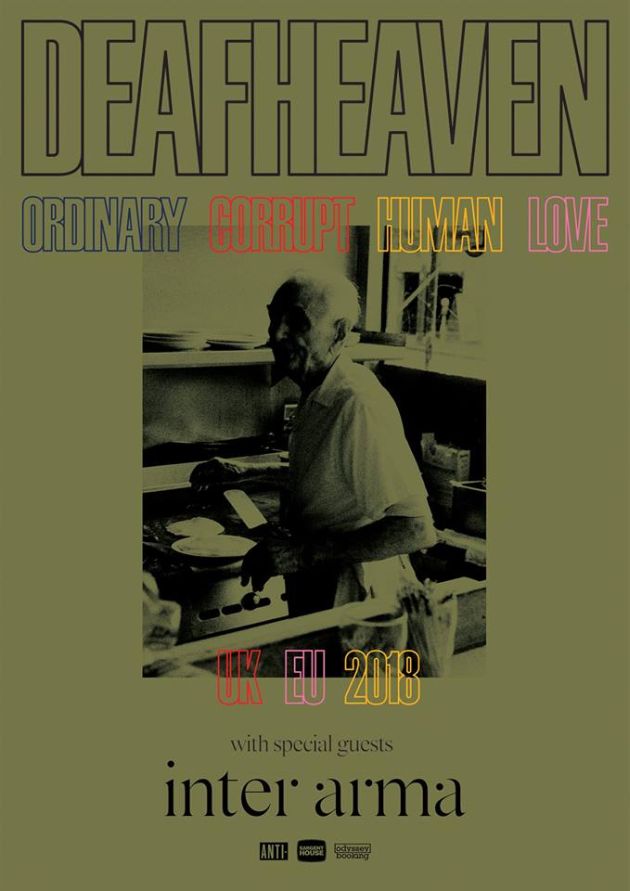 Rockhal, Esch sur Alzette, Luxembourg
23rd September 2018
Deafheaven + Inter Arma

On July 13, DEAFHEAVEN released their highly anticipated fourth album, 'Ordinary Corrupt Human Love'. The band's second full-length for Anti-'Ordinary Corrupt Human Love' follows 2015's critically acclaimed 'New Bermuda'.
Working again with producer Jack Shirley, DEAFHEAVEN have expanded their heavy, kinetic sound to bring in layered psychedelic vocals, jazz-inspired percussion, and intricate piano melodies. 'Ordinary Corrupt Human Love' takes its title from Graham Greene's 'The End of the Affair', reflecting a theme of hazy, yearning romanticism threaded throughout the album. 'Ordinary Corrupt Human Love's lead single 'Honeycomb' further reveals DEAFHEAVEN's literary sensibilities. With its lyrics referencing Argentinian writer Julio Cortázar (author of the stream-of-consciousness novel 'Hopscotch'), the endlessly captivating track is accompanied by a video that shows glimpses of DEAFHEAVEN in the studio and captures their wanderings around San Francisco.
Supporting this evening is INTER ARMA. INTER ARMA's music resists generalization and categorization, but if there's one thing that's consistently true, it's that the VA quintet possesses an unparalleled sense of scope. Few artists today accurately convey the complexity that INTER ARMA (Latin for "in times of war") does - the band creates terrible and often hauntingly beautiful portraits of humanity through music that is deeply organic yet still mystical and modern. INTER ARMA are just as committed to the live circuit as they are to their records: the band has performed extensively throughout Europe and the US, sharing the stage with the likes of KYLESA, BARONESS, COUGH, ROYAL THUNDER, BLACK TUSK, ULCERATE, RUSSIAN CIRCLES, WINDHAND, and dozens of others. INTER ARMA's raw, uninhibited approach merges doom metal, psychedelic sludge, black metal, prog and more, and over the course of the last ten years, has established the band as a uniquely innovative force in contemporary extreme metal.
Additional Concert Info

Doors: 19:30
Show: 20:00
Tickets: 23€ + 2.30€ presale fee
Info & Tickets: https://www.rockhal.lu/agenda/metal-heavy/show/detail/deafheaven/
Facebook Event: https://www.facebook.com/events/257399208168316/
More on
Deafheaven
and
Inter Arma