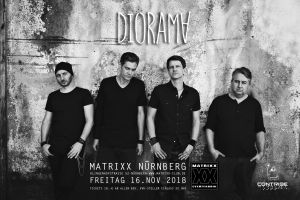 Not many words are needed to describe the music that is created by DIORAMA. Over the two decades the band from Reutlingen has made a name for itself in the Electro- & Dark Music scene in Germany, Russia, Israel, Greece and many more countries and developed a strong fan basis. Though the live shows and especially long tours are a sort of rare occasion, every single one of them is a magical celebration of sound, emotion, beats and charisma. Don't forget to add some Gin Tonic to round up the whole thing.
DIORAMA's mastermind Torben Wendt creates together with the whole band music that is so different from everything out there and therefore makes it so special. While there might be an effect of "over-listening" when you listen to other artists, DIORAMA are able to make music that doesn't get boring at any time. The more you listen to an album, the more it's pure genius and beauty unfolds. The current album 'Zero Soldier Army' is a good prove to it. While it's release was two years ago, there is already a lot of activity going on in the background again. DIORAMA informed their fans recently on their homepage about making new music in studio, but also don't miss the joint project of Torben Wendt and his long-time friend and colleague Adrian Hates (DIARY OF DREAMS) called COMA ALLIANCE, first album going to be released in November, being followed by a tour in January 2019.
But first we get another chance to enjoy DIORAMA on a mini club tour in November 2018 in Nuremberg and Leipzig and on the way back home I already know that there will be that song on auto-repeat in my mind 'The long way home from the party…' and there are going to be another two unforgettable nights of pure music, little magic and some Gin Tonic.
Additional Concert Info Nuremberg

16th November 2018 - Matrixx, Nuremberg, Germany
Support: tba
Doors: 20:00
Start: 21:00
Tickets: from 18.00 € + Charges (Pre-Sale) via
Eventim
Info: http://www.club-matrix.de/index.php/konzerte/352-fr-16-11-2018
Additional Concert Info Leipzig

17th November 2018 - Moritzbastei, Leipzig, Germany
Support: Code Canary
Doors: 20:00 (?)
Start: tba
Tickets: from 19.00 + Charges (Pre-Sale) via
Eventim
Info: https://www.moritzbastei.de/de/event/live/2018-11-17diorama
More on
Diorama