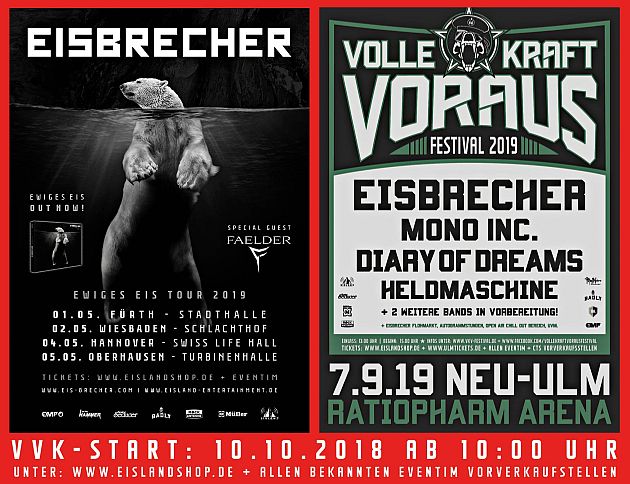 The Munich success rockers of EISBRECHER announce their tour plans for 2019. At the beginning of May, the band will be touring with their current 15-year EISBRECHER retrospective 'Ewiges Eis' for four exclusive indoor shows:
1 May - Fürth, Stadthalle
2 May - Wiesbaden, Schlachthof
4 May - Hanover, Swiss Life Hall
5 May - Oberhausen, Turbinenhalle
Tour Information
Presale start: 10 Oct 2018 at 10:00 at:
Original tickets: www.eislandshop.de and
Eventim online
as well as at all nationwide known Eventim ticket agencies!
As special guest, FAELDER are confirmed. Behind the even more unknown name hides a high-profile all-star cast consisting of Sebastian Lange and Florian Speckhardt of IN EXTREMO, Henning Verlage of UNHEILIG, as well as the solo artists Kai Niemann and Adrian Kehlbacher.
The "Volle Kraft Voraus" Festival enters the third round on September 7, 2019 in the Neu-Ulm Ratiopharm Arena. Next to the hosts EISBRECHER are MONO INC., DIARY OF DREAMS and HELDMASCHINE announced. Shortly, the co-headliner and another band will be announced too. The indoor festival, which already recorded a huge increase in visitors with its second edition this year and was able to establish itself as a permanent institution during the festival summer, is characterized by its strong personality of EISBRECHER! With the "Volle Kraft Voraus" festival, the band is hosting / presenting a festival from music fans for music fans. Because this is what the men around Alex Wesselsky always remained, even if they are among the most successful national music acts and were also nominated for an echo. A number # 1 chart entry with the current studio album, 'Sturmfahrt', a largely sold out tour, gold awards for their albums 'Schock', and 'Die Hölle Muss Warten' are just a few examples from the recent history of the band. On October 5, their 15-year EISBRECHER retrospective, 'Ewiges Eis', was published!
Festival Information

III. VOLLE KRAFT VORAUS FESTIVAL 2019
7 September 2019 | Neu-Ulm / Ratiopharm Arena
Doors: 13:00 | Start: 15:00
Line-up: EISBRECHER, MONO INC., DIARY OF DREAMS, HELDMASCHINE, 2 more bands in preparation!
Surrounding Program: Signings, EISBRECHER flea market, Open Air Area...
Presale start: 10 Oct 18 at 10:00 at:
Standing area (original tickets): www.eislandshop.de
Standing area & seating:
Eventim online
as well as at all nationwide known Eventim ticket agencies
Festival information: www.vkv-festival.de