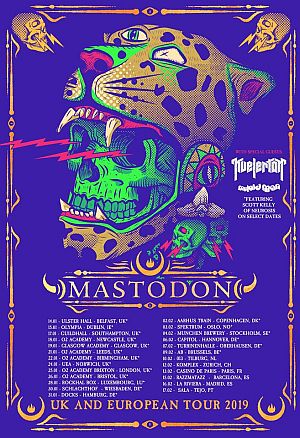 Turbinenhalle 2, Cologne, Germany
7th February 2019
Mastodon feat. Scott Kelly of Neurosis - "UK and European Tour" 2019 - Special Guest: Kvelertak - Opener: Mutoid Man

The Grammy-winning Hard Rock quartet MASTODON has confirmed its return to live stages with an extended tour through UK and Europe. The European tour starts on 14th January 2019 in Belfast / Northern Ireland and ends on 17th February in Lisbon / Portugal. In addition to four concerts in Germany, the tour also includes a show at London's prestigious Brixton Academy on January 25th. MASTODON is supported on all dates by KVELERTAK and MUTOID MAN. Also NEUROSIS co-founder Scott Kelly will be back at the party and joins MASTODON. MASTODON play in Wiesbaden on January 30 at the Schlachthof, on January 31 at the Docks in Hamburg, on February 6 in Hanover at the Capitol and on February 7 in Oberhausen at the Turbinenhalle 2. The UK and European Tour 2019 leads the band to Northern Ireland, England, Luxembourg, Denmark, Belgium, Netherlands, Switzerland, France, Spain, and Portugal.
Tickets are available from 24 October 2018, 11 o'clock, in the online presale on myticket.de and eventim.de. The general presale starts on 26 October 2018 at 11 o'clock. Tickets are then available at www.handwerker-promotion.de and by phone at +49 (0) 1806 - 777 111 (20 Ct. / call - mobile phone prices max 60 Ct. / Call) and at the known ticket agencies. VIP upgrades and more information about the show at www.mastodonrocks.com.
In honour of long-time manager Nick John, who died of pancreatic cancer last month, all tour operators are donating to one of the following three charities: the TJ Martel Foundation, the Hirschberg Foundation für Pankreaskrebsforschung and the Pankreaskrebs-Aktionsnetzwerk. For more information: mastodonrocks.com.
As one of the most internationally respected and influential heavy Rock bands of their generation, MASTODON continue to thrive in musical, lyrical and compositional terms to become their own musical genre. The current album, 'Emperor Of Sand', won the Grammy Award 2018 in the category "Best Metal Performance" for the title 'Sultan's Curse'. The album 'Emperor of Sand' was nominated in the category "Best Rock Album". This marks MASTODON's first Grammy win after five Grammy nominations so far. The album also landed in #1 of the Metal Hammer Top 100 albums of the year and MASTODON were honoured as "Best Live Band" at the 2017 UK Metal Hammer Golden Gods. 'Emperor Of Sand' is a commercial as well as a media success for the band. Not only is it the band's third release in the Top 10 of the Billboard Top 200, it also debuted directly on #1 on the Billboard Rock charts and #1 on the Physical Album charts.
"That MASTODON are capable of channelling personal tragedies into madcap sci-fi fantasy is impressive, but on 'Emperor Of Sand' they finally harness their musical ambitions as well." - PITCHFORK
"Their most ambitious album in years - MASTODON is one of the most beloved heavy bands on earth."- ROLLING STONE MAGAZINE (US)
"MASTODON has an innate ability to be both accessible and really friggin' far out at the same time." - REVOLVER MAGAZINE
"The music of 'Emperor Of Sand' is an emotional statement in itself. Fury and invention coexist, and rage, while palpable, isn't the sole or dominant characteristic… metal that soars with authority and intellect. 'Emperor Of Sand' stands as another arresting work by MASTODON, which may very well be contemporary metal's most compelling group." - WALL STREET JOURNAL
As previously announced, Reprise Records has released a pair of exclusive 12" vinyl picture discs as part of the current 'Picture This' series, and Brann Dailor's solo track 'Red Death' is one of six songs featured in the 'DC Comics Dark Nights: Metal: Deluxe Edition' collection, featuring a poster and a 32-pages comic book limited to 4,000 copies worldwide, MASTODON's ground-breaking 2014 release 'Once More Round The Sun' was released as part of the 'Picture This' series as a double 12" limited edition of 2,000 pieces worldwide.
Additional Concert Info

Doors: 19:00
Start: 20:00
Tickets: 46.55 € plus fees via
Eventim
More Info: https://www.turbinenhalle.de/events/mastodon/
Facebook Event: https://www.facebook.com/events/2328409897204221/
More on
Mastodon
,
Neurosis
,
Kvelertak
and
Mutoid Man