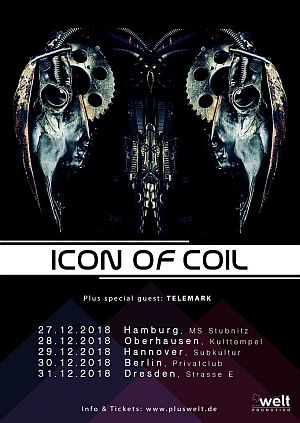 MS Stubnitz, Hamburg, Germany
27th December 2018
Icon Of Coil & Special Guest: Telemark

For fans of ICON OF COIL and TELEMARK the concert year is not over yet. The Norwegian Future Pop project, founded 1997 by Andy LaPlegua, hits surprisingly back with five German dates and kicks the tour off in Hamburg at the historical MS Stubnitz. The Swedish Dark Electro and Alternative band TELEMARK, founded by Elliott Berlin in 2012 (also known from AESTHETIC PERFECTION & COMBICHRIST), supports ICON OF COIL on this exclusive German tour.
It's been pretty quiet in the ICON OF COIL universe, but the project appeared every now and then like in May 2018 at the label's "Out Of Line Festival" in Berlin that one could also have called "Andy LaPlegua-Festival" as he got three slots with his projects PANZER AG, ICON OF COIL and of course COMBICHRIST, one slot on every day of the festival. Songs like 'Dead Enough For Life' or 'Existence in Progress' still fill the dance-floors of dark alternative clubs as they did over a decade ago.
So of you are still looking for something great to relax after all the family holidays and dance off the Christmas cookies, it's a must-go.
Additional Concert Info

Doors: 19:00
Start: 20:00
Tickets: from 24.90 € (incl. charges, additional shipping) via https://www.deinetickets.de/shop/pluswelt/de/start/?g=801
Info: https://www.pluswelt.com/icon-of-coil
Artist: https://www.facebook.com/IconOfCoilOfficial / https://www.facebook.com/telemarkmusic
More on
Icon Of Coil