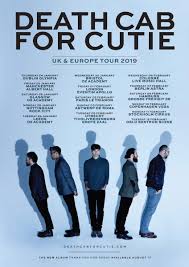 Live-Music-Hall, Cologne, Germany
6th February 2019
Death Cab For Cutie


News from DEATH CAB FOR CUTIE: In mid-August, the Americans released their ninth studio album, 'Thank You For Today', in a new line-up. Twenty years have passed since the band from Seattle came together and yet it always sounds new. After the last work, 'Kintsugi' of 2015; founding member, guitarist and producer Chris Walla left the band in all friendship after 15 years. In addition to the long-time band members Ben Gibbard, Nick Harmer and Jason McGerr, the new band members Dave Depper and Zac Rae were in the studio. Since 2015 they are already part of the live cast of DEATH CAB FOR CUTIE.
On their new album, 'Thank your for today', DEATH CAB FOR CUTIE build their sound, refine it, but always find new curves in their handwriting and explore new sonic corners. This exemplary collection of ten tracks alternately sounds beautiful, dynamic, somber-hymnal and bittersweet. And the beautiful title? Last fall, the five members of DEATH CAB spent weeks with producer Rich Costey in his studio in Santa Monica, where they recorded the basic tracks live and later worked with other layers of sound. Every day they finished the work with the words "Thank you for today", says Harmer. Over time, it really started to mean something to the band. And when they all started thinking about what they wanted to call the album, it just seemed to fit perfectly…
In fact, it's a strong statement against the roughness of our days - and a fitting mantra for the new great music of DEATH CAB FOR CUTIE, which the guys will be presenting live to us early next year.
Additional Concert Info

Doors: 19:00
Start: 20:00
Tickets are available for 37.75 euros + charges (pre-sale) via
Eventim
More Info: https://prime-entertainment.de/index.php?id=34&eventid=5191
More on
Death Cab For Cutie