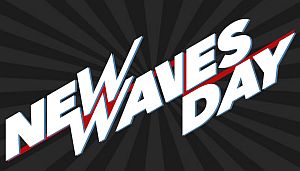 Turbinenhalle, Oberhausen, Germany
18th May 2019
New Waves Day 2019 with Peter Hook & The Light, Gang of Four, Chameleons Vox and more

Celebrated one time, already established. The New Waves Day celebrated its outstanding premiere in Oberhausen in 2017 and brought scene heroes like THE MISSION to the stage in front of thousands of fans. On May 26, 2018, the second editions took place with headlines FIELDS OF THE NEPHILIM. This year, the organizers will even top it and present a line-up which will make every fan of the alternative 80s into raptures. Pop & Wave meets Punk and Industrial.
Also this year's line-up proves impressively: The New Waves Day is the long-awaited counterweight to the many alternative events, which are dominated by electronic sounds, unholy hit and medieval songs. The one-day festival thus succeeds in giving the origins of a scene a stage and thus uniting supporters of various musical genres in one place. Fans travel from all over the world to celebrate their heroes and themselves.
The entire line-up for New Waves Day 2019 is: PETER HOOK & THE LIGHT, GANG OF FOUR, CHAMELEONS VOX, PINK TURNS BLUE, AND ALSO THE TREE, !IN2THESOUND!, THEN COMES SILENCE, THE ARCH.
PETER HOOK & THE LIGHT will be headlining the festival. It's the third edition for the New Waves Day but a first for PETER HOOK: The legendary JOY DIVISION- and NEW ORDER co-founder has confirmed his appearance in Oberhausen in 2019 making this show one of his rare concerts in Germany. Rumours have it that Hook will celebrate his New Waves Day premiere in Oberhausen with a very special set of JOY DIVISION classics. PETER HOOK & THE LIGHT - You don't want to miss this! GANG Tthe co-headliners of this year's New Waves Day are none other than GANG OF FOUR, consisting of Andy Gill (guitar), Tobias Humble (bass), John "Gaoler" Sterry (vocals) and Jonny Finnigan (drums). CHAMELEONS VOX was conceived as the continuation of THE CHAMELEONS UK, arguably the most widely influential guitar band ever to come out of Manchester England, and the project continues to evolve. CHAMELEONS VOX features vocalist and composer Mark Burgess collaborating with various people that include CHAMELEONS drummer John Lever, Neil Dwerryhouse and Chris Oliver on guitars, and lately long-term collaborator Yves Altana. CHAMELEONS VOX are now reaching a whole new generation of fans to swell the considerable loyal following that the band has established and have so far played sell out concerts in the UK, Germany, Holland, Greece, Italy, Spain, Portugal; and across the United States of America. Anno 2019 CHAMELEONS VOX will play for the 3rd time in a row át the NEW WAVES DAY!
PINK TURNS BLUE are an influential band from Cologne, Germany. Formed in 1985, they quickly put out their first LP, 'If Two Worlds Kiss', expressing a sound reminiscent of New Wave with very dark undertones and use of synthesisers, only to become one of the pioneers of the developing sub-genre of Darkwave. Before the first album, Thomas Elbern left the band to form ESCAPE WITH ROMEO. After many hits like 'Michelle', 'Walking On Both Sides', 'Your Master Is Calling', 'The First', 'I Coldly Stare Out', 'Touch The Skies', 'Catholic Sunday', 'Missing You', 'If Two Worlds Kiss', 'Moon' and 'Seven Years' they split up in 1995. In 2003 they reformed to appear on a few festivals. Because of the success of the re-union, they released a best of album called 'Re-Union' and in 2005 their studio album 'Phoenix.' The latest Album is called 'The AERDT - Untold Stories'. The current line-up of the band consists of Mic Jogwer, Ruebi Walter, and Paul Richter. Established in 1979 in a small village in Worcestershire & inspired by the ideology of a still-developing Post-Punk movement, AND ALSO THE TREES from their very beginnings were different. Unlike more urban contemporaries like PIL & GANG OF FOUR, they were influenced almost exclusively by the landscape & history of the rural environment that surrounded them, an influence that has remained throughout their entire existence to this day.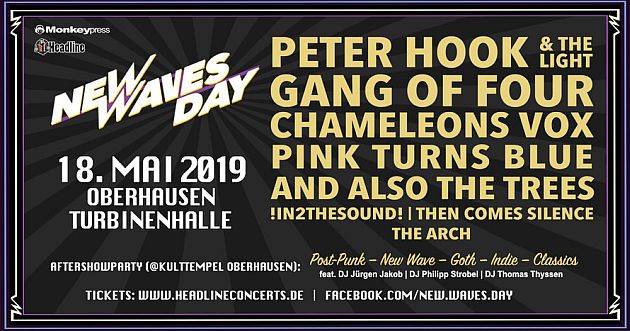 !IN2THESOUND! is a tribute to the legendary post-punk band THE SOUND. Do you remember Adrian Borland? Do you remember THE SOUND? On New Waves Day 2019, !IN2THESOUND! will be guests. They are supported by JoJo Brandt, another musician from the band THE CONVENT. !IN2THESOUND! was launched just over a year ago by drummer Mike Dudley and singer Carlo van Putten. Both are closely related to the late 1999 musician Adrian Borland, frontman and founder of the Post-Punk band THE SOUND. While Mike Dudley was the man on the drums there from 1979 to 1987, Adrian Borland and THE CONVENT singer Carlo van Putten met many years later and founded the band WHITE ROSE TRANSMISSION in 1995. In 2016, a planned documentary film about Adrian Borland brought the two men, Mike Dudley and Carlo von Putten, together and they decided, together with Stefan Bornhorst and Carsten Lienke (THE CONVENT), to found a tribute band in honour of their mutual friend and to revive his legacy. THEN COMES SILENCE are the Swedish captains of Post Punk. The quartet from Stockholm is a fresh breeze of Gothic renaissance, kicking darkness around with hammering rhythms and melodies that makes hearts melt and blood freeze. The fascination for doom and darkness pervade and influence every tune and word. The music of THEN COMES SILENCE takes the listener on a journey from swinging Post Punk to the shadows of Goth-gaze and into scraps of coal hearted psych. The sharp soundscape is intense, massive and pounding. The lyrics flirt with death and sorrow. It's Goth, Psychedelica, Rock and Post-Punk in a symbiosis.
Last but not least, THE ARCH complete the line-up. Comeback of the Belgian cult band! An atmospheric concoction of electronic and guitar-sounds characterizes a unique style of floating elegies and driving post-punk. Caution: addictive! That Belgium has been an epicentre of alternative music production for years, has hardly remained unnoticed to the experts, but still only few bands have managed to let ascend their hits to sustainable evergreens. Note THE ARCH who for years have been well established on dark-wave-events with their hits 'Babsi ist tot' and 'Ribdancer'. THE ARCH are finally back with their highly anticipated album 'Fates', which contains 13 new songs, which show the versatility of the band. 'Fates' takes us on a journey to the alternative music-culture, in which the power and intensity of the interaction between guitar-driven and electronic music is once again made visible!
Looking for the full New Waves Experience? For the first time ever the festival is offering special VIP-tickets that include free drinks and food. Plus: You have access to the special VIP-Room with extra bar. Tickets will be limited. And after the festival, the party continues: Headline Concerts and Kulttempel Oberhausen present: New Waves Day 2019 - Official Aftershow Party! Post-Punk - New Wave - Goth - Indie - Classics! Feat. Guest-DJs: Jürgen Jakob (Cold Beat Berlin / Ex-Strobelight Records / Judgement Day Festival), Philipp Strobel ([aufnahme + wiedergabe] / DEATH # DISCO) and Thomas Thyssen (Pagan Love Songs / When We Were Young @ WGT 2005-2015). Start: 10:30 p.m. / Entry: 5€ / Free entry for New Waves Day 2019 - visitors (just show your wristband/ticket)!
More news about presale:
Exclusive hard- & VIP-Ticket presale starts @ www.headlineconcerts.de
International ticket sale @
Eventim
Price: 55- € (plus fees) / VIP-Ticket: 119- € (plus fees)
The VIP Ticket includes entrance to the gallery, drinks (soda/beer) and buffet
All info about the festival, ticket links etc. are available at http://www.new-waves-day.de / https://www.facebook.com/new.waves.day