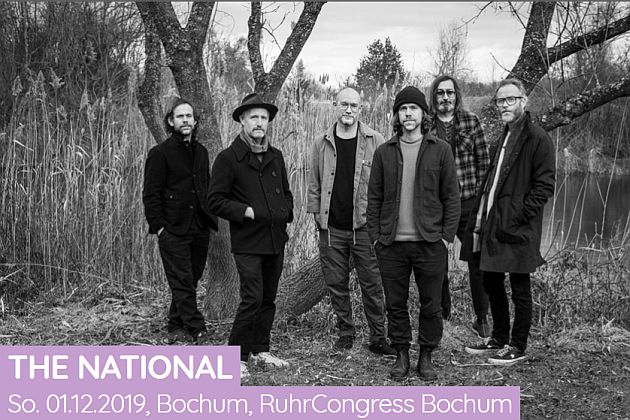 RuhrCongress, Bochum, Germany
1st December 2019
The National

THE NATIONAL have been highly praised by critics since the beginning of their career, but only with the last album, 'Sleep Well Beast', came the all-encompassing fame. For example, the band around singer Matt Berninger and two brothers Aaron Dessner (guitar, bass, piano) & Bryce Dessner (guitar) as well as Scott Devendorf (bass, guitar) and Bryan Devendorf (drums) won a Grammy last year for "Best Alternative Music Album".
Since the release of their seventh studio album, the band has been touring most of the time - festival and arena shows around the world have been part of their agenda for some time. Former US President Barack Obama also publicly outnumbered and even used a song by Indie rockers in his election campaign. All this is not surprising, as the band managed to create their own sound in the cosmos of Indie Rock early on. Through the personal and emotional texts of Berninger paired with the hymnal instrumental parts of the two brothers, THE NATIONAL always set themselves apart from other alternative bands.
However, THE NATIONAL did not indulge in a well-deserved holiday after endless tours and the hustle and bustle surrounding their album, 'Sleep Well Beast'. Together with director Mike Mills, 'I Am Easy To Find', a short film starring actress Alicia Vikander, was created last year and, as if this were not already an ambitious request, also 'I Am Easy To Find', a new album from THE NATIONAL! Although both works bear the same name, they are still loosely connected, according to Mills, and also function alone.
On the album, which will be released on May 17 on the long-term label 4AD, THE NATIONAL combine their usual strength and talents with new approaches: never before has the band collaborated with as many different musicians as on this record, and so one can hear the voices from Sharon Van Etten, Mina Tindle, Kate Stables from THIS IS THE KIT or Lisa Hannigan; strings break through the galloping drum rhythms and in the end everything is held together again by Matt Berninger's deep baritone.
With the new songs in the bag, 2019 will present the band on a comprehensive world tour, which will take THE NATIONAL back to Germany for six dates in November and December. Already in July they are on stage for a sold-out guest performance in Hamburg as well as in Frankfurt, for which tickets are still available. The pre-sale for the winter dates started on Thursday, March 7, at 10 clock exclusively at CTS Eventim - also here it is recommended to be quick.
Additional Concert Info
Doors: 19:00
Start: 20:00
Tickets: are available from 54.00 euros plus charges (pre-sale) via
Eventim
Info: https://prime-entertainment.de/index.php?id=34&eventid=5673
More on
The National
Foto: Graham MacIndoe