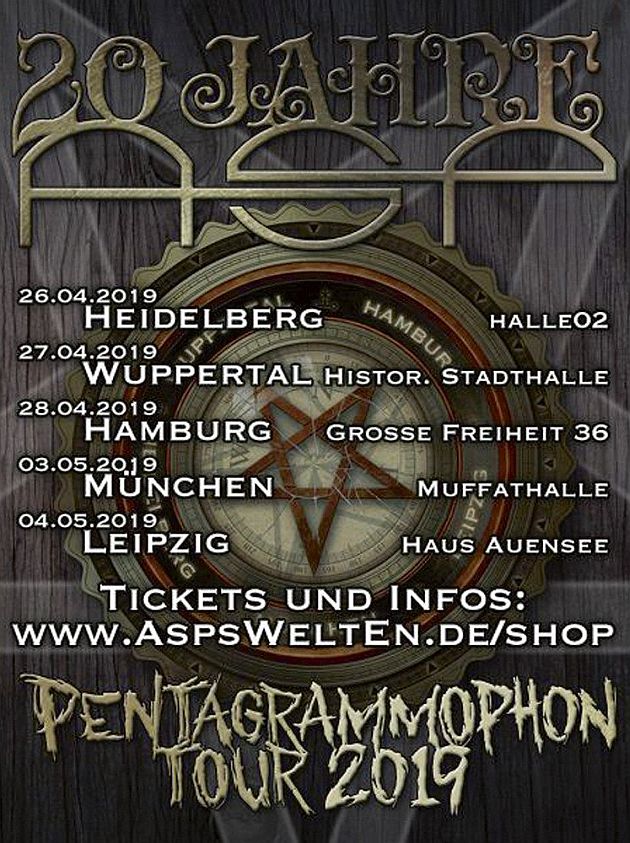 Haus Auensee, Leipzig, Germany
4th May 2019
ASP - "Pentagrammophon Tour 2019 - 20 Years ASP
In 1999, a young band entered the stage of the German Rock scene and astonished with the mysterious slogan "Did you miss me?" This apparently contradictory question answered since the emergence of the formation countless music listeners with a "yes", because the band with the creepy made-up front man was always with a good deal of bulkiness to the work and thus satisfied the hunger of the dissenters.
In fact, 20 years later, it seems today as if it had never been different and as if the tightrope walk between lyrical appeal and playful ease had always accompanied everyone involved. Perhaps it is the skilful balancing act between poetry and entertainment that has made ASP so highly successful. This phenomenon cannot be explained otherwise, especially because the musical drawer is simply missing. And on stage, ASP are always an experience anyway - whether headlining the relevant scene festivals or major metal events such as the Wacken Open Air and the Summer Breeze - proving it with a special best-of-show in the anniversary year become.
One can look forward to hits and rarities from 20 years, in which one thing has become very clear: Whether one hates or loves them now, there is no band like ASP.
Additional Concert Info

Doors: 19:00
Start: 20:00
Tickets: can be bought for 38.75 + charges (pre-sale) via
Eventim
Info: https://www.facebook.com/AspsWelten
Facebook Event: https://www.facebook.com/events/1022446964603385/
Location: https://haus-auensee-leipzig.de/de/asp
More on
ASP