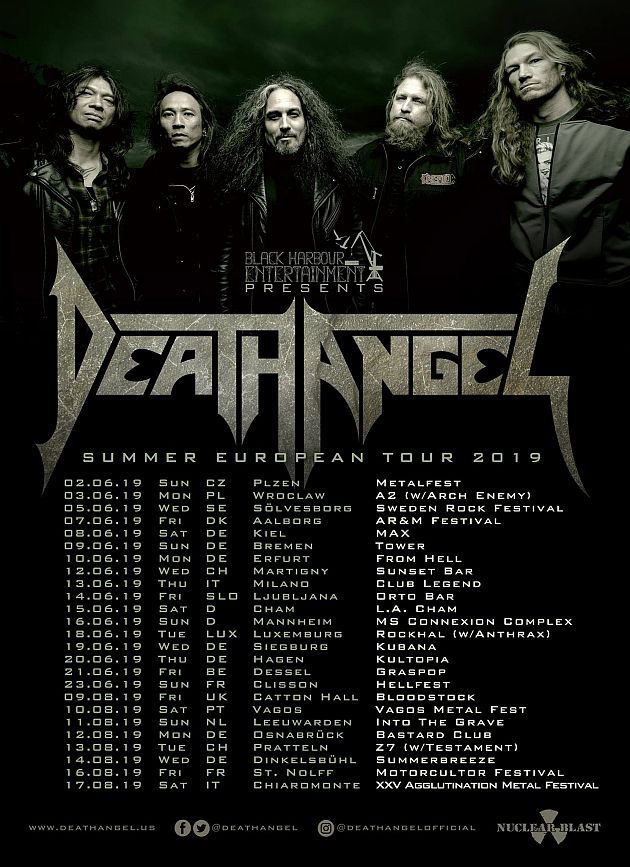 Rockhal, Esch sur Alzette, Luxembourg
18th June 2019
Anthrax, Death Angel, Alien Weaponry


It's rare that a career gets a second shot, let alone a whole second act, but then ANTHRAX isn't your average band. Formed in New York in 1981, the group that would go on to sell over ten million records and become the living embodiment of America's hi-top wearing, riff-spitting, ear-thrashing answer to the New Wave Of British Heavy Metal has undergone not one, but two complete eras - but that isn't their real achievement.
More than the group who let a fledgling METALLICA crash on their studio floor in 1983, who became a lightning rod for geekdom by immortalizing Judge Dredd with 'I Am The Law' in 1987, who enthusiastically raised a middle finger to the critics and unimaginative fans alike by collaborating with rappers PUBLIC ENEMY in 1991, and who - in 2011 with the release of 'Worship Music' - proved that classic albums aren't a bygone concept, the story of ANTHRAX is one of gritty determination in the face of outrageous odds.
The liveliest fourth of the Big Four, they're arguably the only member of that legendary fraternity who've kept their eyes so firmly focused forward and who've so consistently delivered the goods, both on stage and in the studio. Ironically, it was on stage alongside those immortal co-conspirators where the story of ANTHRAX' 11th studio record began. Seeing their names in lights next to SLAYER, MEGADETH, and METALLICA had a catalysing effect on the band weary from years of toil and changing times. According to bassist Frank Bello, it wasn't just a potent reminder of what they did back in the 80s, but also of how far they've come.
It's about more than just the music though, and true to ANTHRAX form, 'For All Kings' isn't just infused with pop-culture references, but deeper subtexts that bespeak the thoughtful artistry that underpins everything that they do. As Charlie explains, while ANTHRAX's 11th studio record doesn't have a running theme, there's a significance to it all that comes straight from the heart.
The result is an album that's as ferocious as it is sublime, as current as it is classic. From the straight-ahead thrashing brilliance of opener 'You Gotta Believe' and 'Breathing Lightning' to the seven-minute majesty 'Blood Eagle Wings', 'For All Kings' is the quintessential ANTHRAX record, and proof positive that you can't keep a good band down.
Additional Concert Info

Doors: 19:00
Start: 19:30
Information & Tickets: https://www.rockhal.lu/events-tickets/metal-heavy/show/detail/anthrax-death-angel-alien-weaponry/
Facebook Event: https://www.facebook.com/events/358363964768154/
More on
Anthrax
,
Death Angel
,
Alien Weaponry