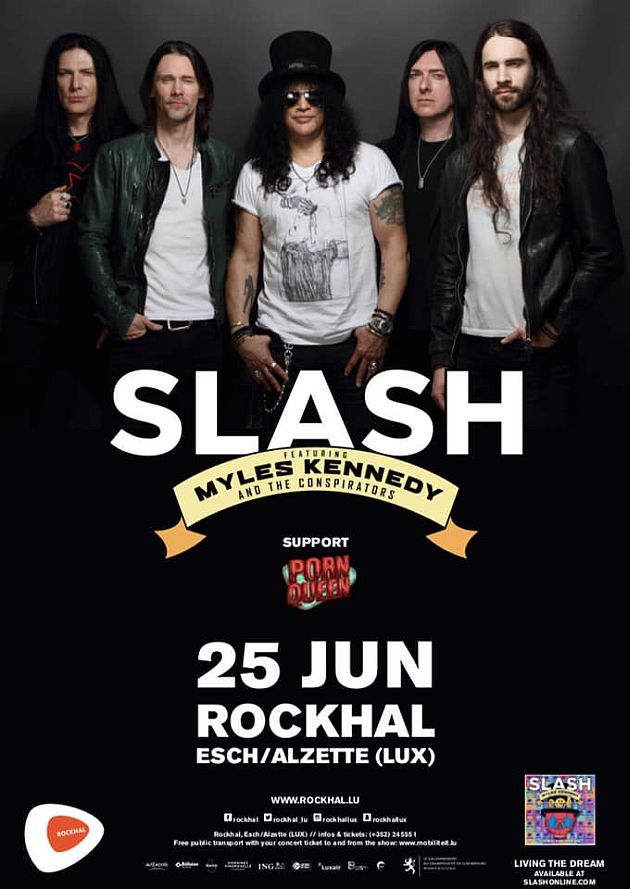 Rockhal, Esch sur Alzette, Luxembourg
25th June 2019
Slash feat. Myles Kennedy & The Conspirators, Porn Queen

SLASH - the iconic American Rock guitarist, songwriter and film producer -has amassed album sales of over 100 million copies, garnered a GRAMMY Award and seven GRAMMY nominations, and was inducted into the Rock and Roll Hall of Fame. Revered as one of the best guitarists of all time, SLASH first came to fame as one fifth of GUNS N' ROSES, where he created the timeless guitar riffs to #1 hits 'Sweet Child o' Mine' and 'Welcome To The Jungle', amongst others. After leaving the band, he went on to achieve more critical acclaim and global success with SLASH's SNAKEPIT and the super group VELVET REVOLVER before embarking on his own solo career.
SLASH FEATURING MYLES KENNEDY AND THE CONSPIRATORS unleashed their third album, 'World On Fire', in 2014 to worldwide praise. 'World On Fire' debuted on over 12 Top Ten charts worldwide, becoming his third straight solo album to do so in the U.S. The album's title track and first single, 'World On Fire', ascended to #1 at U.S. Rock Radio.
In 2016, GUNS N' ROSES shocked the world by announcing that the three original members, Axl Rose, SLASH and Duff McKagan would reunite on-stage for the first time together since 1993. Dubbed the "Not In This Lifetime Tour", the hugely successful 21-city North American run was quickly followed by subsequent legs in Latin America, Asia, Australia and New Zealand, as well as a second North American leg. A 2018 European leg was added in November 2017. The tour so far has grossed over $480,000,000 worldwide - making it the fourth highest-grossing tour of all time.
But even with all the GNR reunion activity, SLASH always planned on getting back together with Myles Kennedy and The Conspirators, and in September of 2018 the band released their third album - and SLASH's fourth solo album overall - 'Living The Dream'. Debuting in the top 10 in over 10 countries worldwide and charting a top 5 single at Active Rock for the first single, 'Driving Rain', the LP is possibly the band's strongest collective statement to date. SMKC is now on a world tour that is set to run through August of 2019. SLASH also continues to produce films and television projects in what little time he has left over, proving that with the right team around him anything is possible to achieve.
Additional Concert Info

Doors: 19:00
Start: 20:00
Information & Tickets: https://www.rockhal.lu/events-tickets/rock-pop/show/detail/slash-feat-myles-kennedy-the-conspirators/
Facebook Event: https://www.facebook.com/events/487187468452560/
More on
Slash
and
Porn Queen