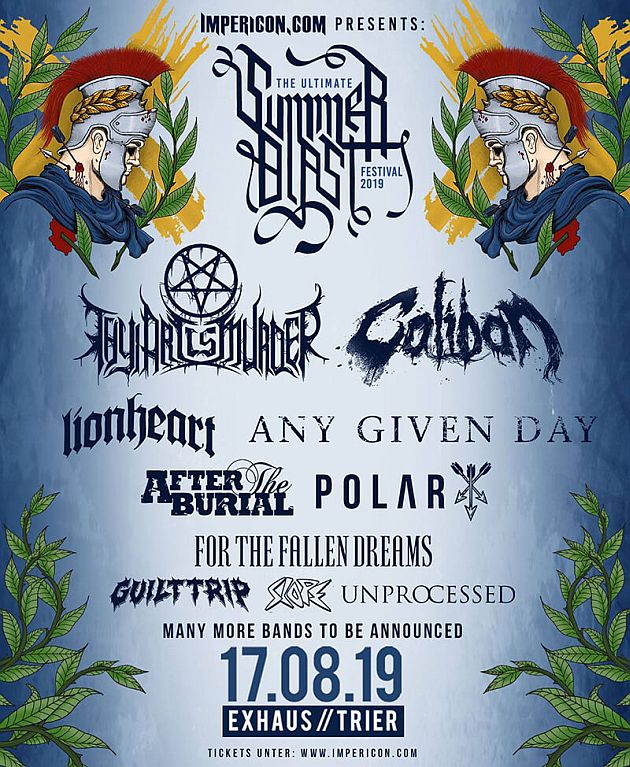 Square at the Arena, Trier, Germany
17th August 2019
The Ultimate Summerblast Festival 2019 with Thy Art Is Murder, Caliban, Lionheart, Any Given Day, After The Burial and many more
Only a few one-day festivals in Germany can convince such a large crowd with such a unique mix of Hardcore and Metal as the Summerblast Open Air Festival in Trier. Not only the genre mix, but also the variety of well-known band greats and newcomers makes the Ultimate Summerblast so special and very popular among the metal audience.
Summerblast Festival is a Hardcore and Metalcore festival that takes place on 17th August 2019 in Trier (DE) and around 2,500 fans are expected. The Festival took place for the first time in 2012. In the past years ARCHITECTS, CALIBAN, CALLEJON, COMEBACK KID, DEEZ NUTS, DEFEATER, EMMURE, EVERGREEN TERRACE, H2O, IN HEARTS WAKE, MADBALL, SICK IT ALL, STICK TO YOUR GUNS, STRAY FROM THE PATH, TERROR, WALLS OF JERICHO and many more were at the start.
CALIBAN and THY ART IS MURDER are confirmed as top acts which are the bands the most of the people are excited to see because CALIBAN are one of the most important member of the Metalcore genre in Germany next to HEAVEN SHALL BURN. THY ART IS MURDER is a Deathcore band from Australia and therefore don't often visit Europe while touring, which makes it even more special that they're present at the festival. In addition bands like, EYES SET TO KILL, LIONHEART, FOR THE FALLEN DREAMS, POLAR, AFTER THE BURIAL, SLOPE and many more will be there.
Additional Festival Information

Doors: 11:00
Tickets: https://www.impericon.com/de/summerblast-festival-tickets.html / Eventim
More info: https://www.facebook.com/SummerblastFestivalOfficial/
Facebook Event: https://www.facebook.com/events/288507858456200/?active_tab=about