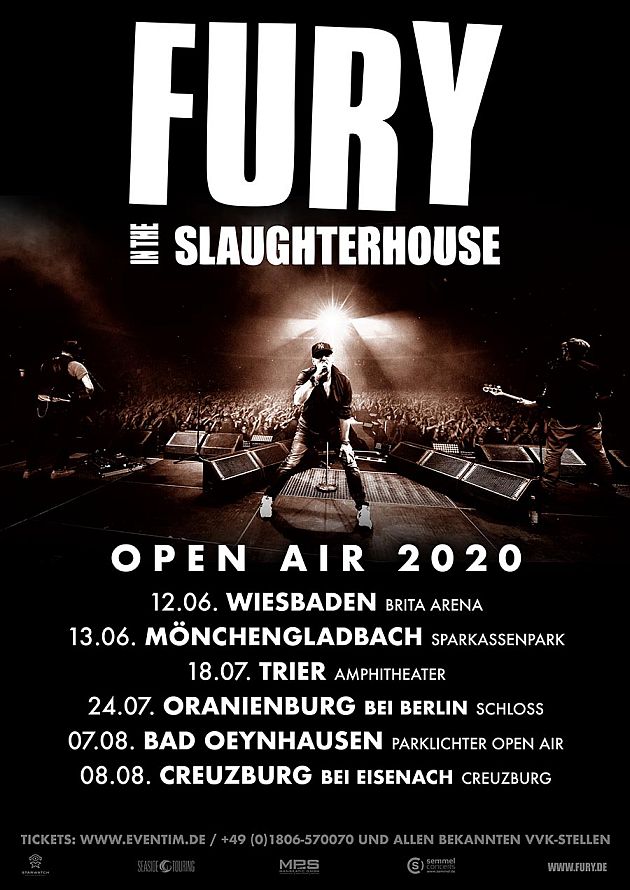 Attention: Due to the Corona pandemic, this tour is postponed from summer 2020 to summer 2021! One dates2020 currently tbc!
What if, when you have a free wish to make that turns into reality? What if life would actually be a pink pony farm with your own rules to make? Replace the pink ponies with the highly motivated FURY IN THE SLAUGHTERHOUSE, and your wish comes true in 2020: The band, who always did it their own way - often and loud - and who came and went at will, wants to do it again! Starting in June 2020, there are six incredible shows. No sleep till Stadium!
The two years regarding the 30th anniversary were definitely excellently, when we talk about the legendary class reunion in Hanover, the open air summer 2017, the acoustics tour with "Little big world" and friends, and the "Last Order" 2018 with a comprehensive open air lookup and a brilliant Fury & Friends Cruise. There was so much fun, and that's why the phrase "stop if it can't get any better" makes absolutely no sense. Because it was so endlessly cool, the Furies start the next round. Just because they can. And while others make up a cool story and fine words, as usual, Kai refuses to meet expectations, and he sums up with a smile on his face: "Just being up for!" It's that simple!
This exceptional band is definitely not done. Even after that turbulent band history and the time out with own projects of the band members and being on the move a lot, the guys themselves are fascinated, how much they enjoy to be back as a band. More than 30 common years are not easy to leave behind. FURY IN THE SLAUGHTERHOUSE spark off a fire on stage, and now it's time for a look-up with that unique magic, old friends, that songs, the sound, the energy, the attitude to life between memories, unforgettable moments and hope, between encore and still hungry, always taste for more. Wishes come true, sometimes, so take your calendar and mark June, July and August 2020 - it's time again for that fascinating and contagious musical coolness that is only mastered by FURY IN THE SLAUGHTERHOUSE!
Tour Dates

Aug 20, 2020 Busdorf, Baltic Open-Air - Due to corona pandemic the date is tbc
June 11, 2021 Wiesbaden, Brita-Arena
June 12, 2021 Mönchengladbach, SparkassenPark Mönchengladbach
June 13, 2021 Hemer, Sauerlandpark Hemer
June 18, 2021 Leinefelde-Worbis, Burg Scharfenstein
June 19, 2021 Leipzig, Parkbühne
July 16, 2021 Trier, Amphitheater – Trier
July 17, 2021 Trier, Amphitheater – Trier
July 23, 2021 Oranienburg, Schloss Oranienburg
Aug 6, 2021 Stuttgart, Freilichtbühne Killesberg
Aug 7, 2021 Regensburg, Schloss Pürkelgut
Aug 13, 2021 Bad Oeyenhausen, Kurpark
Aug 14, 2021 Hamburg, Open Air am Volkspark
Sep 3, 2021 Creuzburg, Burg Creuzburg
The exclusive presale starts on Wednesday, May 29, at
EVENTIM
. From Friday, May 31, tickets are also available at all known ticket shops.
More on
Fury in the Slaughterhouse