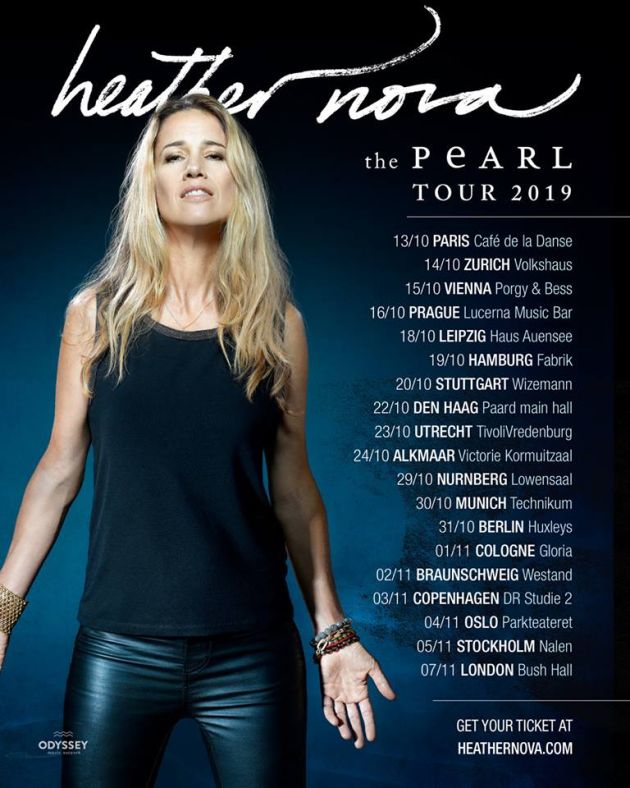 Gloria Theater, Cologne, Germany
1st November 2019
Heather Nova - "Pearl" Tour Europe 2019

HEATHER NOVA, the Bermudian Singer/ Songwriter who grew up on a sailboat in the Caribbean and went on to sell over 2 million albums and play over 600 shows in her 20-year career to date, has announced to come to Cologne in November to promote her newest album 'Pearl'.
HEATHER NOVA emerged in the early 90s. Her first record was hailed as 'A stoned black olive among drab greens' by NME and her second album 'Oyster' went on to top the charts on both sides of the Atlantic and took her on her first world tour. Her next album, 'Siren', established her firmly in the world of alternative rock, with singles charting worldwide, and invitations to play major festivals in Europe, the UK and America, as well as song placement in major TV shows and film soundtracks. She soon gathered a wide fan base due in part to her compelling live shows. In the early days she spent 8 months a year on the road and her sound was unique - One of the first rock bands to combine a cello with distorted guitars and top it all with her ethereal sirens-call voice.
There was an intensity and a uniqueness to her live shows that created a buzz and a solid following. She released 3 live albums - 'Blow', 'Live from the Milky Way' and 'Wonderlust'. Her self-penned songs have always been raw and emotional, frequently injected with cool pop melodies; A combination which often had her falling through the cracks between genres. This both helped and hindered her. The London Evening Standard recently called her "one of pop's most enduring enigmas" for good reason. She has always made her own way and has had little regard for the current trends.
Additional Concert Info

Doors: 18:30
Start: 19:30
Tickets are currently not available. Tickets for other shows:
Eventim
More Info: http://gloria-theater.com/programm/01-11-2019/heather-nova
More on
Heather Nova