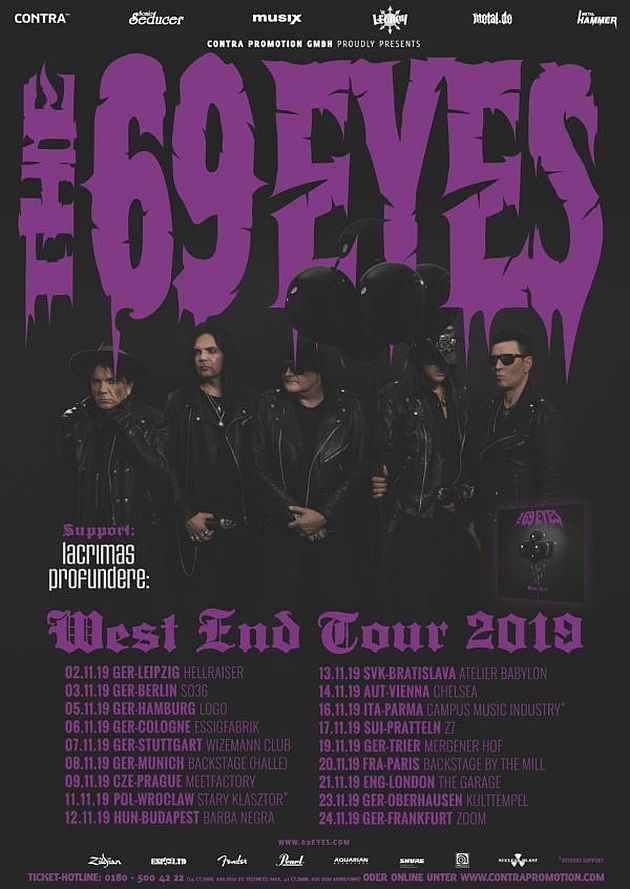 Logo, Hamburg, Germany
5th November 2019
The 69 Eyes - "West End" Tour 2019 - Special guest: Lacrimas Profundere

THE 69 EYES are celebrating their 30th anniversary and are doing it with the release of their new album 'West End', out on 13th September 2019 via Nuclear Blast. No other band has characterized the Goth'n'Roll genre as much as THE 69 EYES have done in over three decades. Their albums 'Paris Kills' and 'Blessed Be' can be clearly considered some of the all-time classics of the Gothic genre.
Jyrki 69's characteristic dark and Rock'n'Roll-ish voice keeps magically enchanting the followers around the world. THE 69 EYES keep on Goth'n'Roll like never before and spoiling their audience with entertaining and dark tunes. Their 'West End Tour 2019' is bringing them to many places around Europe with a stop in the legendary Logo in Hamburg on 5th November 2019.
The special guests on this tour will be no one less but LACRIMAS PROFUNDERE. The Goth Rock Metal band is a stable part of the scene and has influenced now not just one generation of Goths and Metal heads. LACRIMAS PROFUNDERE just released their latest album 'Bleeding The Stars' in summer 2019 and instantly reached chart position 34 in the Official German Album Charts. Sine 1995 LACRIMAS PROFUNDERE released in total 15 albums, while travelling between the genres of Gothic Metal, Dark Rock and everything in between and melting the boundaries. Together with THE 69 EYES we are getting here a strong combo of Goth Rock legends that are still inspiring the genre.
Additional Concert Info

Doors: 19:00
Start: 20:00
Tickets: from 23.10 € (+ charges, additional shipping) via
Eventim
Info: https://www.logohamburg.de/programm-detail.php?datum=2019-11-05&quelle=programm
Artist: http://69eyes.com / https://www.facebook.com/the69eyes / https://www.lacrimas.com / https://www.facebook.com/lacrimasprofundereofficial
More on
The 69 Eyes