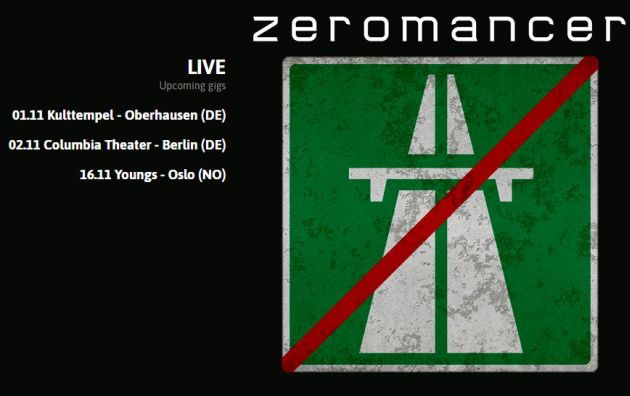 Youngs, Oslo, Norway
16th November 2019
Zeromancer - Only show in Norway in 2019

A literally very surprising news reached us from Norway will play one show this year in their home country. ZEROMANCER, the Norwegian Synth Rock band from Tønsberg in Norway founded in 1999, is a guarantee for an electrifying and perfect life show whenever you'll see them. It's been quiet around them in the last years. There were a few festival gigs in Germany, one rare show last year in Oslo as the final gig for the former guitarist Dan Heide who has been with the band for 15 years.
The comeback was planned earlier, but life happened. After an extremely successful gig at the M'era Luna festival in Germany (sold-out with around 25.000 visitors) in August this year, that was also the first one for the new guitar player Per-Olav Wiik, there seems to be a lot happening under the surface. Just after that festival weekend another announcement followed for ZEROMANCER to headline the 20-years-anniversary edition of Pluswelt Festival with a double feature in Oberhausen and Berlin. ZEROMANCER will be headlining on Friday in Oberhausen and on Saturday in Berlin.
But the surprises are not over as it seems… the newly confirmed show in Oslo at Youngs on November 16th, only two weeks after the Pluswelt Festival gigs in Germany, will be an exclusive gig in Norway this year. You think that's it? No, the band just announced that the long awaited new album with the title 'Orchestra for Knives' will be released in autumn 2020. So the band is currently changing a lot between studio and rehearsal room. When we dare to interpret the signs right it seems ZEROMANCER are coming back to us with full power, new songs and hopefully also more live dates in 2020!
Additional Concert Info

Doors: 19:00
Start: tba
Tickets: from 340 NOK (+ charges, additional shipping) via https://www.ticketmaster.no/event/zeromancer-billetter/619809
Artist: https://www.facebook.com/zeromancerzentral/
More on
Zeromancer