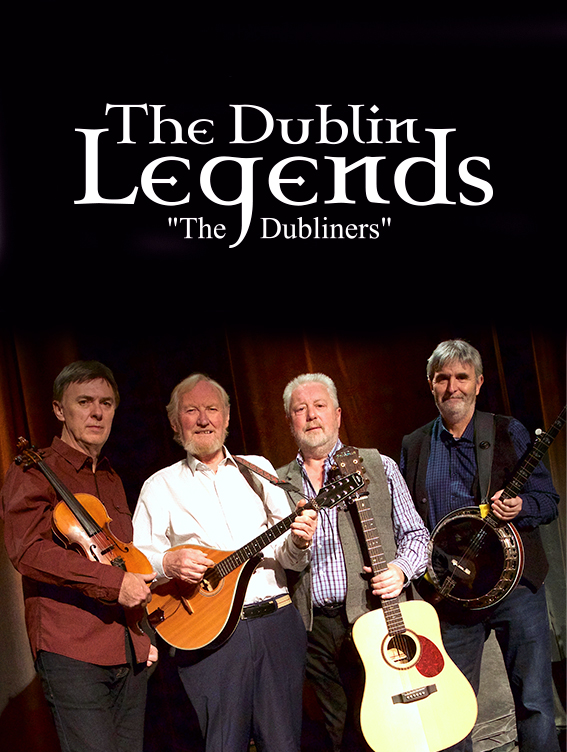 They are the primary rock of the Irish Folk - THE DUBLIN LEGENDS! Lovers of that genre cannot get away. Who doesn't get the chance to travel to Ireland, but nevertheless wants to enjoy a theoretical trip to the "Green Island", should listen to THE DUBLIN LEGENDS! The band is better known as THE DUBLINERS, which were founded in 1962. The popular band already performed on stages all over the world. Well-known artists and band, that already worked together with the Irish guys, are U2, DAMIEN DEMPSEY, THE POGUES, BRESSIE, and others. Some of the great Irish Single Charts number 1 hits are 'Seven Drunk Nights', 'The Irish Rover', and 'The Ballad of Ronnie Drew'.
After the death of the last original founding member, Barney McKenna, in 2012, the remaining band members decided, to go back on stage together. One year later, a new era started. Since then, THE DUBLIN LEGENDS continue the success story of THE DUBLINERS! The death of the long-time companion, Eamonn Campbell, in October 2017 was a major setback for the band, but with Shay Kavanagh, a singer and guitarist, they found a worthy successor. Séan Cannon, who and Campbell were part of THE DUBLINERS for 30 years, is now responsible for vocals and guitar. The other two band members, Gerry O'Connor and Paul Watchorn, who also sings, show all their violin and banjo skills.
Instruments like violin, banjo, guitar, or mandolin are favorite elements of modern Irish Folk. Extraordinary rhythms and lyrics, that tell stories, are the perfect combination for a music that encourages people to sing and dance. THE DUBLIN LEGENDS manage to transport the feeling of sitting in an Irish Pub. Besides new musical projects of the band, the audience can enjoy Folk classics like 'The Irish Rover', 'Dirty Old Town', or 'Whiskey in the Jar'. What a wonderful mixture!
In 2019, The Dublin Legends come to Germany, so the fans can look forward to the high spirit and lively music of their favorites:
Nov 21, 2019 Paderborn – Paderhalle
Nov 23, 2019 Bremen – Modernes
Nov 24, 2019 Aurich – Stadthalle
Nov 26, 2019 Hamburg – kl. Laeiszhalle
Nov 27, 2019 Husum – MHC
Nov 28, 2019 Lübeck – Kolosseum
Nov 29, 2019 Duisburg – Erlöserkirche
Nov 30, 2019 Bochum – Christuskirche
Dec 2, 2019 Düsseldorf – Savoy Theater
Dec 3, 2019 Hannover – Leibniz Saal
Dec 4, 2019 Berlin – Passionskirche
Dec 6, 2019 Frankfurt – Club in der Jahrhunderthalle
Dec 7, 2019 Munich – St. Matthäuskirche
Tickets:
http://bit.ly/dubliners_tickets
More on
The Dublin Legends